The Samsung Galaxy Note has always been known as the all-in-all device. Since the first Galaxy Note in 2011, Samsung has used the series to reconsider what our smartphones should be able to do, not to mention the extent of what we can do these things. The Samsung Galaxy Note 10 does not reinvent what we have seen in earlier Notes. On the contrary, just like the Galaxy Note 9, it feels iterated in many departments to feel more modern, in prosperity and in adversity. The Note 10 Plus is bigger, faster and thinner than ever before, but I feel that Samsung is shifting its market demographic from the power user who wants everything to all users who happen to want power. This is our Samsung Galaxy Note 10 Plus Review.
Samsung Galaxy Note 10 Plus Review – Design
162.3 x 77.2 x 7.9mm
196g
Infinity-O punch-hole camera
Curved display edges
S Pen
Stereo speakers
With the launch of the Samsung Galaxy S10 series, Samsung has renewed the design to feel like new. With the launch of Note 10, Samsung follows this evolution even more extreme. The edges of the Note 10 Plus are smaller than almost every phone that Samsung has ever produced. Instead of placing the camera crop in the upper right corner, Samsung has moved the camera crop to the top center. I like this design because it doesn't feel like it's blocking your content. I was already happy with the Infinity-O display in the S10 series, but this recess is even smaller.
This was at the expense of a smaller camera aperture compared to Note 9 – another indication that Samsung was obsessed with making this device beautiful. However, front cameras still look great, so this is a good decision for me. The body of the Note 10 Plus is boxy, which is a tradition for Note devices. This year, the phone feels even boxier, but I love it. Note 9 felt like it wanted to be boxy but still added a curve to the corners. Although this phone is not as square as the Razer Phone 2 or an old Sony Xperia, the relatively straightforward design with curved sides feels nice in the hand.
The Note 10 Plus is considerably thinner than the Note 9, just 7.9 mm versus 8.8 mm on the Note 9. However, it is interesting that, even with a huge 6.8-inch display, it remains roughly the same footprint as the Note 9, mainly due to the reduced edges. I would have preferred the device to have the same thickness and an even larger battery, but as with other refinements this phone has made, the design was clearly a priority.
The back of the phone looks elegant, with a vertical triple camera system on the left. Apart from two flash LEDs and a depth camera, the back of the phone is completely clean. On my Aura Glow model, the phone breaks light to create some amazing colors. The Galaxy S10 Prism White shifted from white to blue to red, but the Aura Glow Note 10 Plus can rotate almost any color of the rainbow. It is one of the most visually appealing phones I have ever seen and has once again been one of Samsung's most important marketing points for the device.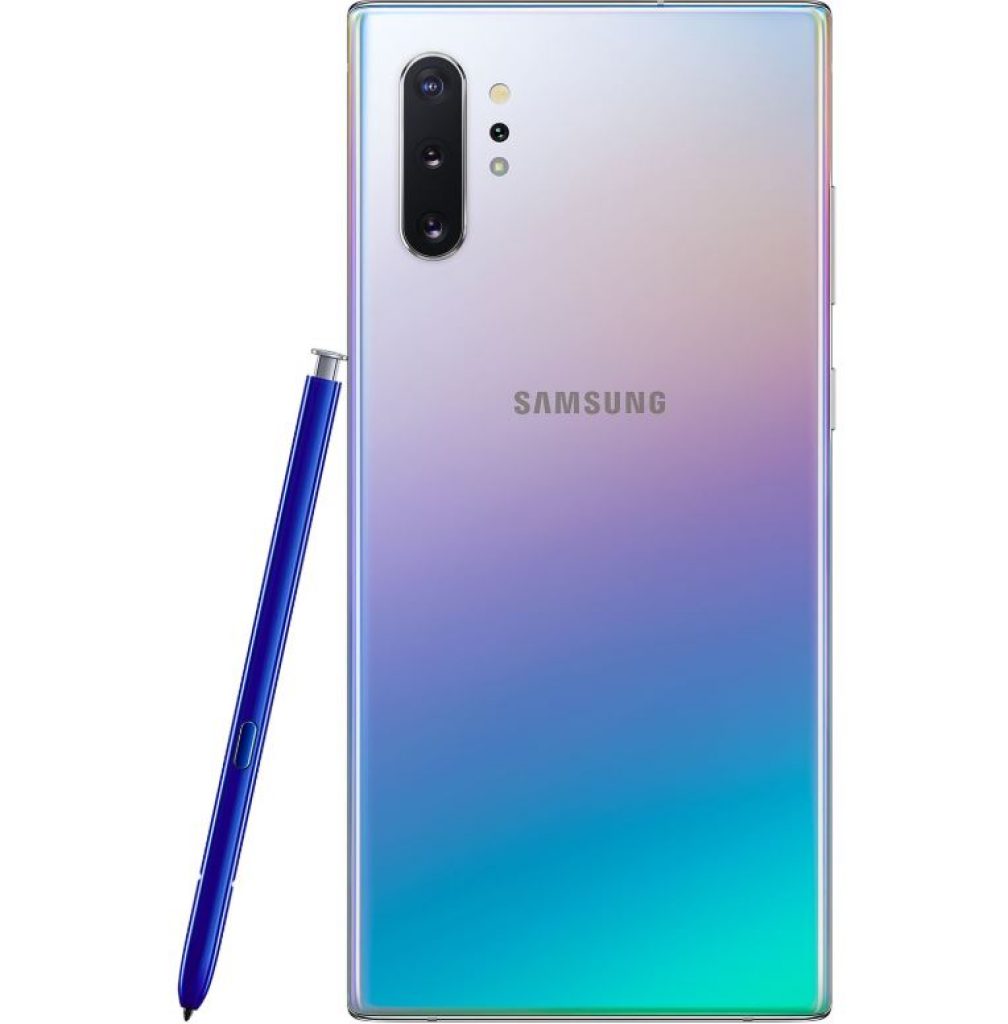 At the bottom of the phone you will find a slot for the iconic S Pen, a speaker grille and a microphone, but no headphone jack. I will continue to emphasize this: headphone connections must not be removed until we have been omnipresent. Currently, the condition of the USB-C headphones is gloomy, to turn the light off, and Bluetooth is still awkward. The fact that the headphone jack has become a mid-range feature is disgusting and no one should be punished for not having the money or rather not buying expensive Bluetooth headphones.
The right side of the device is free of buttons or ports. Samsung chose instead to move the on/off button to the left, exactly under the volume buttons. This was where the Bixby button was, but now it is completely removed. With this change, I can be honest. At first, I thought it would be hard to turn the device on and off, but most of the time I use the in-display fingerprint sensor and I can easily turn the device on and off with my index finger versus my thumb. Like most things, it took about a day to get used to it, but then it felt completely normal. At the top, you will find a SIM drawer with microSD extension, a speaker and a microphone.
Samsung Galaxy Note 10 Plus Review – Display
6.8-inches
3,040 x 1,440 Quad HD+ resolution
19:9 aspect ratio
HDR10 / HDR+ certified
498ppi
In-display ultrasonic fingerprint reader
Like Note 9, the Galaxy Note 10 Plus continues the heritage of Samsung with having one of the best screens on the market. This is not surprising since Samsung is the largest AMOLED manufacturer in the world. Samsung has won 13 DisplayMate awards for the display on the Note 10 Plus and I would say the awards are justified. The dynamic AMOLED display of the Note 10 Plus looks great. It is clear and powerful but not too saturated, and you have the option to use a "vivid" color profile if you prefer a little more zest. HDR 10 and HDR + certification also gives you much more information in the shadows and highlights of HDR content, so if you watch that extremely dark episode of Game of Thrones, you should be able to see much better.
Before the announcement, rumors circulated that the Galaxy Note 10 would have a 90Hz display, but that is not the case. This year we have seen devices from OnePlus and Asus with a high refresh rate, but Samsung remained at 60Hz in the Note 10 series. A higher refresh rate would have been nice, but since most apps do not yet support higher rates, this is not a deal breach for me personally. 90Hz is not yet something the mass market demands, and with the Note 10 Plus functions seem to be driven by wider consumer needs, not by powerful users.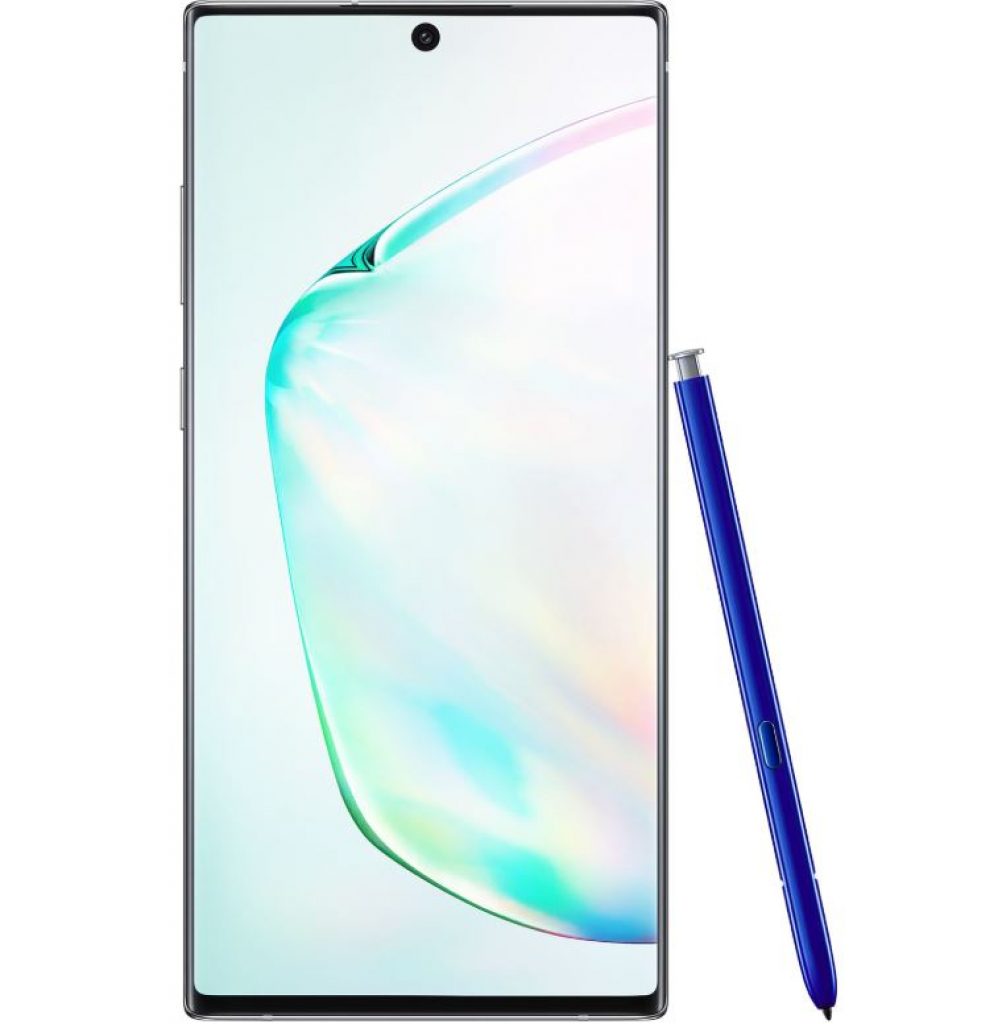 Regarding the size, 6.8 inches is pretty huge, but surprisingly the phone doesn't feel awkward. I don't know if I am slowly getting used to larger devices, but the Note 10 Plus feels nice to use. This is probably due to the aspect ratio of 19: 9. Because the Note 10 Plus actually has the same footprint as the Note 9 with more screen and less edge, it feels familiar. Samsung has also placed the same ultrasonic in-display fingerprint sensor that we saw in this device in the Galaxy S10 series.
It is no newer than the one we saw earlier, but it seems more accurate. Where the S10 apparently read my fingerprint more wrong than he read it correctly, the Note 10 Plus has a much higher success rate. This can be attributed to the fact that Samsung has placed the sensor higher on the screen than on the S10 Plus, making it easier to press naturally. Although it is not perfect and I had much more success with the huge optical sensor of the OnePlus 7 Pro, the measurements have improved for me.
Samsung Galaxy Note 10 Plus Review – Software
The Galaxy Note 10 Plus comes with One UI 1.5, which is based on Android 9 Pie. Just like with the Galaxy S10 Plus, I am a big fan of this view on Android. Screen elements are large and easy to reach, and there are nice functions such as scrolling screen images and a built-in screen recorder. If you are a dark theme nerd, Samsung has also included a dark theme in One UI. The only concern I have with this software is consistent updates. My Samsung Galaxy S10 Plus has just received the July security patch, which is almost a month late. Samsung can improve the update timeline, but historically this has not been the best.
The major software updates for the Note 10 Plus are an improved Dex experience in addition to a new partnership with Microsoft called Link to Windows. Dex now works with any computer with any USB cable. This means that you do not need a special monitor to use the platform. In a sense, this beats Dex's point as something to replace your PC. That said, it's nice to be able to move files between your phone and computer in a more natural way, and you can even run apps on the virtual desktop.
Link to widows is a switch that you can turn on and off in your notification shadow. With this function, you can receive texts, photos and other notifications on your Windows PC. Samsung hopes that this is a suitable alternative to Apple's ecosystem, which seamlessly connects things such as text messages between your Mac and iPhone. Using it for sharing photos is personally the most convenient for me because I use Android messages for the internet to handle text messages. Regarding notifications, I don't really want more notifications on my PC.
Samsung Galaxy Note 10 Plus Review – Audio
No headphone jack
Stereo speakers
The Samsung Galaxy Note 10 series gets a lot of fainting by dumping the headphone jack. In my opinion, this shortcoming is justified. Samsung is one of the few premium phone manufacturers that hold the analog connection, and dumping it in the phone that is supposed to "do everything" seems pretty offensive to its loyal fans. That said, the Note 10 Plus has stereo speakers with Dolby Audio and also supports Bluetooth 5. The speakers sound very good and have been tested very well in our special speaker-test. If you want a phone that sounds great without a Bluetooth speaker, Note 10 Plus is a great choice.
Samsung Galaxy Note 10 Plus Review – Hardware and Performance
Qualcomm Snapdragon 855
Octa-core
Adreno 640 GPU
8GB or 12GB of RAM
256GB or 512GB of UFS 3.0 storage
Expandable storage
Based on the specifications, the Samsung Galaxy Note 10 Plus should fly, and it does – I didn't notice any hiccups or stuttering while using the phone, in line with other Snapdragon 855 devices, especially those with 12 GB RAM.
The Galaxy Note 10 Plus scores well in benchmarks. It achieved a score of 369,029 in AnTuTu, compared to the 360,414 on the Galaxy S10 Plus. In 3DMark, it achieved a score of 5,692 compared to the score of the S10 Plus of 5,239. In Geekbench it won 3,434 and 10,854 for the single-core and multi-core tests, versus the 3513 and 11148 scores on the Galaxy S10 Plus, respectively. In Gary's Speed Test G, the Samsung Galaxy Note 10 Plus completed the race in 1: 30: 381 and beat the Galaxy S10 in about two seconds.
Samsung Galaxy Note 10 Plus Review – Camera
Standard: 12MP, f/1.5-f/2.4, OIS, 77-degree FoV
Wide-angle: 16MP, f/2.2, 123-degree FoV
3x Telephoto: 12MP, f/2.1, OIS, 45-degree FoV
Depth Vision VGA camera
Selfie: 10MP, f/2.2, 80-degree FoV
The rear set of cameras on the Samsung Galaxy Note 10 Plus has, in fact, remained unchanged compared to the Galaxy S10 Plus. You still have the same wide, standard and telephoto lens, which offer you a lot of versatility when shooting. The placement of the camera array is in my opinion also better because you no longer get your index finger in wide shots. The overall quality of the Note 10 Plus camera is very similar to that of the Galaxy S10 Plus, but I think Samsung has improved its processing a bit. Color is very good and the HDR is much less dramatic.
The Galaxy S10 Plus would increase the shadows and blacks of each shot extremely aggressively, and the Note 10 Plus performs better with more contrast in shots. The wide camera is incredibly versatile. It is wider than almost any other smartphone camera there is, but with that comes an aggressive distortion. This can be solved in post-production if you want, but the camera is still very useful to get more in the picture and make things feel big. The standard camera is sharpest and has a good color. It also has the largest potential aperture of the three cameras.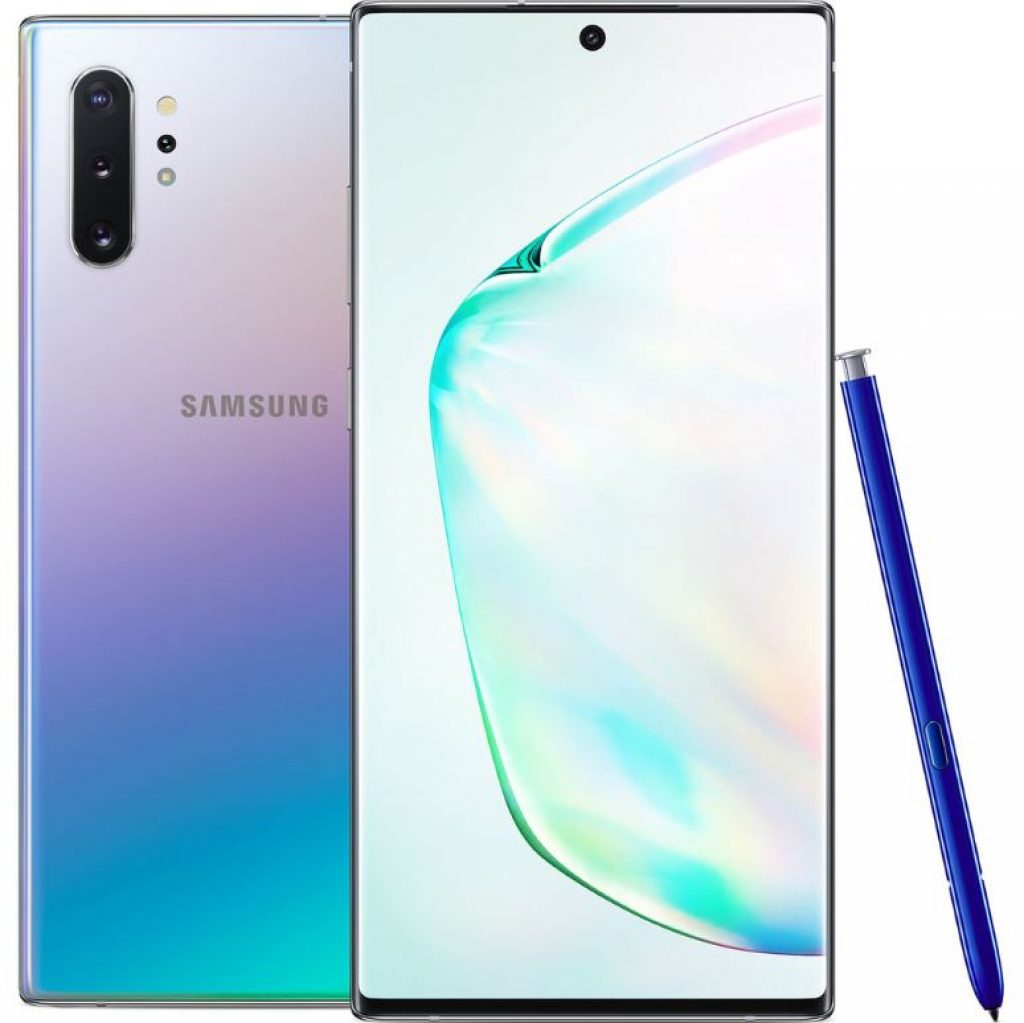 The telephoto lens also seems to be improved, probably from a software level. It is quite sharp, which is rare for telecamera's on smartphones. It has just as good colors as the other two cameras, and it's nice to see relatively similar profiles across all three lenses. The Galaxy Note 10 Plus also comes with a "Depth Vision" camera. This is mainly used for creating 3D models of objects. With Samsung, you can manipulate these models by post and even export them to software such as Blender 3D. There is no depth camera on the smaller Galaxy Note 10.
Unfortunately, like other Samsung cameras, the Note 10 Plus struggles in low light. The Galaxy Note 10 leaves the aperture open for a while to get enough light, which causes quite a bit of sweeping when the subject moves completely. The phone will also exaggerate the contrast in low light scenarios, blow out high lights and crushing blacks and shadows.
The camera on the front of the Note 10 is very good. Images are sharp and have good color. The dynamic range is good and I think it looks even better than the rear cameras. This is surprising because Samsung had to make the aperture on the Note 10 selfie camera smaller than on the Galaxy Note 9. Still, I am quite happy with the results. Glitch adds a 3D glitch effect to your photos, while color point keeps the subject in color and makes everything else black and white. These effects can also be used in video mode and they work well.
Speaking of video, the Galaxy Note 10 Plus has the best video stabilization of every phone I have used. It competes with the Huawei P30 Pro in video stabilization, that is, it is very, very good. Unfortunately, video struggles just as much in low light as photos. Highlights are blown out and shadows are crushed.
Samsung Galaxy Note 10 Plus Review – Battery Life
4,300mAh
Up to 45W charging (25W included in the box)
Wireless charging (15W)
Reverse wireless charging
The Samsung Galaxy Note 10 Plus uses a battery of 4,300 mAh, up to 300 mAh compared to the Galaxy Note 9. This is not a huge shock given the screen went from 6.4-inch to 6.8-inch, and although it was certainly a full day can be charged for a fee this will not be a two-day device, at least not for a heavy user. One day I got 5 hours and 2 minutes of screen time. The next one I got 7 hours and 33 minutes. On average, if I disconnected my phone around 9 am, it would almost be dead by midnight. This does not mean that the Note 10 Plus has a bad battery runtime – it is fine.
However, I hoped for a larger battery, because the screen is considerably larger than both the previous Note and the Galaxy S10 Plus. It is clear that Samsung has been trying to play it safe since the incident with the Galaxy Note 7. The average battery life can be somewhat forgiven if the phone is charged quickly and Samsung has a USB PD-charger of 25 W included in the box. This is not the fastest charger that we have seen in a smartphone, but 25 W is respectable. Real-world testing brought the device from 0 to 100 percent in about 75 minutes, which can be very useful if you need a quick jump.
Add to this the fact that this is a PD charger, which can intelligently raise the voltage to provide safer power, and talk directly to a device to see how many volts and amps it can handle, and you have a thumb up from me. Most fast chargers use their own standards and I am happy that Samsung takes over something open. Samsung also sells a 45W charger, and I am excited to try it out if I can get it.
Samsung Galaxy Note 10 Plus Review – S Pen
You cannot rate a Galaxy Note device without talking about the S Pen. This year Samsung has added a few new functions. None of them feels particularly revolutionary, but you can't blame Samsung for trying to improve it. The S Pen in the Galaxy Note 10 series has a gyroscope in it, with which it can perform Air Actions. This means that you can perform gestures such as swipe up and down and left and right to change camera mode or make a swirling motion to zoom in with the camera. This can be pretty useful for things like external selfies, but I haven't found any of the new gestures that change the way I use the phone.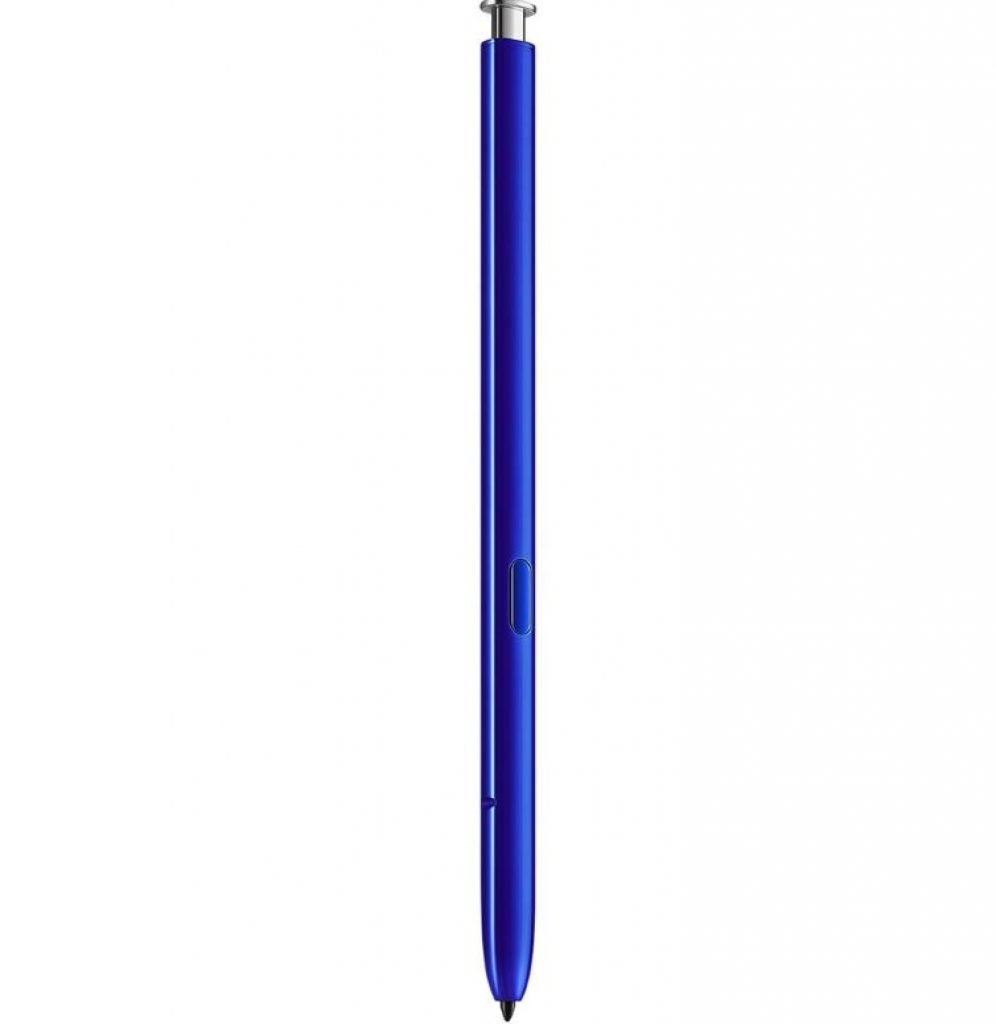 Other new features include AR Doodle and improved digital text conversion. With AR Doodle you can draw on people and things in virtual space. I like this feature, even if it is relatively gimmicky. I will probably use it more often on objects than on people, even if it is nice to occasionally add bunny ears to your friends. Digital text conversion was available in Note 9, but it has been improved with AI-driven recognition for better accuracy and direct export to Microsoft Word.
Samsung Galaxy Note 10 Plus Review – Conclusion
The Samsung Galaxy Note 10 Plus is a beautiful phone, but the priorities have clearly changed. Samsung no longer tries to attract the "do everything and everyone" crowd, but rather the "do what you do well and make it look good". Almost every update on the Note 10 Plus was driven by the need to attract a wider audience, which meant that the power user association with the device had to be reduced. The standard Note 10 goes even further with a smaller 1080p screen, no microSD card expansion and a fairly small battery of 3500 mAh.
Personally, it is my favorite Note that has been made so far. But the priorities have clearly changed for the company, and if you are the hardcore power user who wants the best specifications that Android has to offer, you may want to view options such as the Asus ROG Phone 2.
Samsung Galaxy Note 10 Plus Review Rating – 9.2/10
The Galaxy Note 10 Plus is a phone for everyone. Samsung is increasingly moving away from giving everything to the powerful users and giving everyone the power.
Pros:
Huge, vibrant display
Lightning-fast performance
Very loudspeakers
Luxurious design
Versatile camera setup
Cons:
More glass gives a higher chance of breaking
No headphone jack
[content-egg-block template=custom/all_logolist_widget]