Investing in advanced studio equipment is a good way to ensure that your work environment is able to keep up with your skills. Despite being one of the smallest pieces of technology you can have in a studio, headphones are by far one of the most important pieces of the puzzle. Today we are going to show you our choices for the Best Studio Headphones Under $500. This price range represents the first-class studio headphones. It is also a place where you will find countless models that are easily among the best studio headphones under 500 dollars on the market.
Best Studio Headphones Under $500 Comparison Table
Best Studio Headphones Under $500
Headphone Name
Battery Life
Connectivity
Shure SRH1840
No
Wired
Shure SRH1540
No
Wired
Beyerdynamic DT 1770 PRO Studio
No
Wired
Sony MDR-V700DJ
No
Wired
AKG Pro Audio K712 PRO
No
Wired
Sennheiser HD 6 Mix
No
Wired
Phonon Subtonic Monitor Smb-02
No
Wired
What To Expect From The Best Studio Headphones Under $500?
When you drop this kind of money on headphones, chances are that you expect more than your average performance. Fortunately for everyone, headphones in this segment of the market certainly deliver that. However, if you expect some super cool features that are not really logical from the point of view of music production, you will be disappointed. If you put a $100 pair of studio headphones next to a $500 pair, bring a person off the street and ask him to tell you which ones are better, chances are they have a hard time answering the question. Even though most of these look pretty great, they've all been designed to offer the best possible unedited performance.
Comfort
Comfort is a big factor when it comes to choosing your studio headphones. Remember that this is a tool that you will sometimes have to wear for hours. Good padding designs with a light frame and general comfort are absolutely necessary. As you will probably notice, all our choices meet these requirements. The main trick is to find out which headphones are best for you. Unfortunately, this is not something that you can do without trying it out.
Hardware
One of the reasons why headphones with a higher range are so expensive is the hardware that different brands choose to place in these models. You will encounter many more advanced driver designs that provide impressive performance everywhere. In addition, most of these headphones have a high impedance and good power transfer capabilities. This means you may have to invest in an amplifier, but it also means that you can connect these headphones to any piece of professional studio equipment and make them work smoothly.
Different Designs
Although we have seen many different designs in the $300 price range, only after you reach this segment do you start running in the truly refined open back, semi-open and closed back designs. Each has its advantages, advantages, and disadvantages. If you want to know more about them, check out our headphone guide. The most important thing is that you have a lot of choices in this segment. Regardless of the type of headphones, you are looking for, you will find great models that bring a number of very interesting solutions to the table. That, among other things discussed above, is the reason why investing in a high-quality set of cans is more than worth it.
Here are the Best Studio Headphones Under $500, arranged according to the audio quality, built design, and price ratio:
Shure SRH1840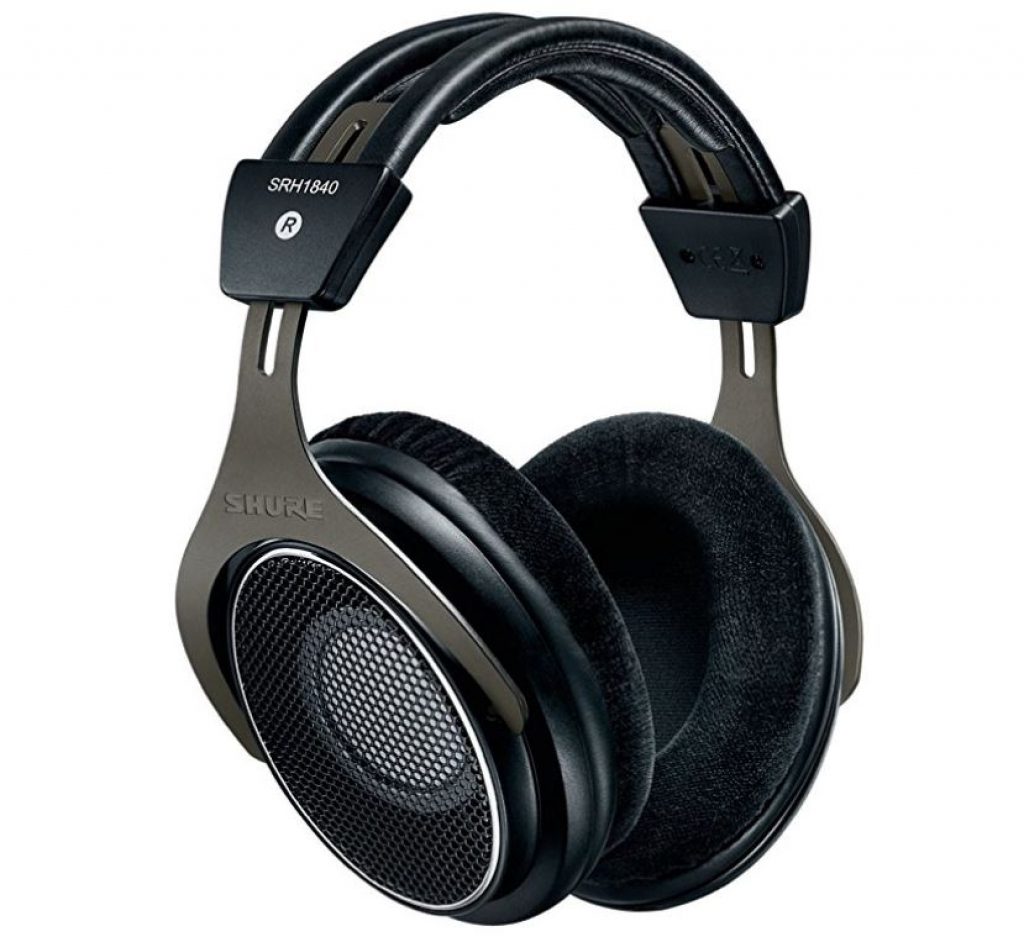 Shure is one of those names that are often mentioned in studios, both amateur and professional. The truth is that they are much better known because of their microphones. Yet Shure knows how to make good headphones. Those we view today go under the name Shure SRH1840 and represents one of the best studio headphones under $500. As you can probably immediately see, these are open-back headphones. Shure's frame design provides great reliability and durability, although we would have liked a bit more padding on the headband. As far as hardware is concerned, the two neodymium drivers are simply incredible when it comes to transparency of sound. You also get that huge sound image.
Pros:
Light and durable frame design.
Feature a great set of drivers.
Impressive sound quality, transparency, and overall resolution.
Cons:
A bit more padding on the frame would've been great.
Shure SRH1540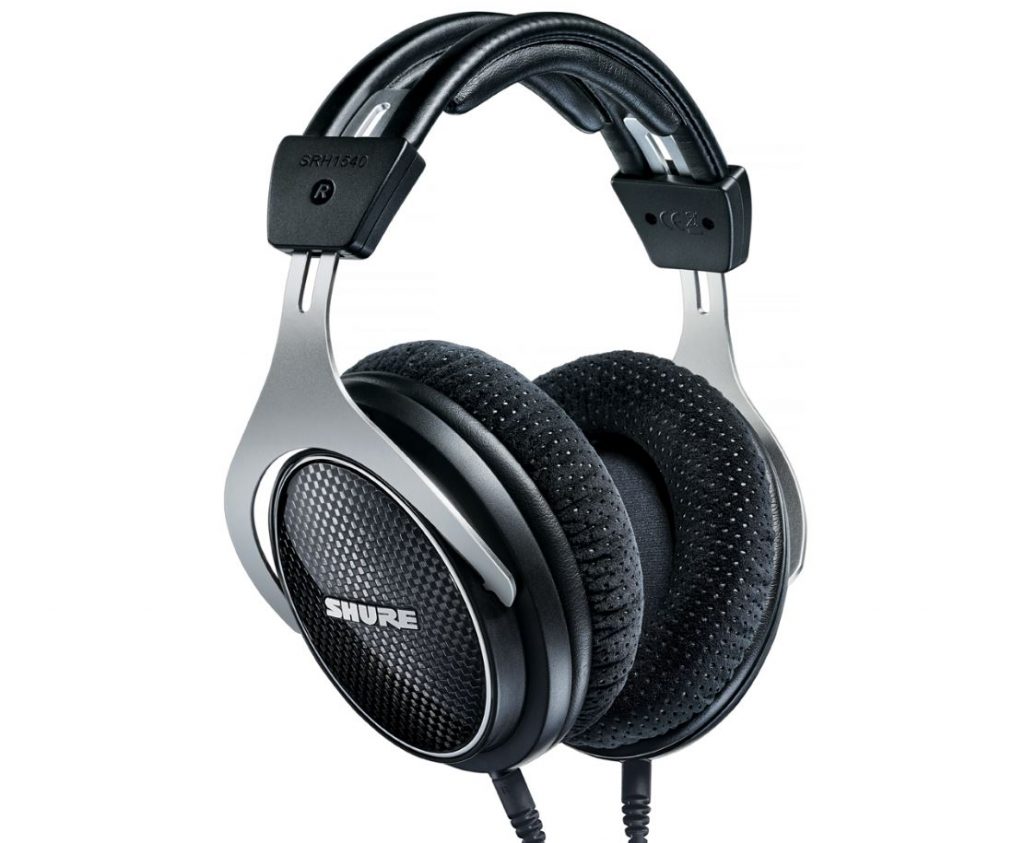 After covering the open set of cans from Shure, it was only logical to include a closed back model. The one we have chosen for this list is the Shure SRH1540 and is one of the best studio headphones under 500 dollars. Even though these two resemble each other, they are very different. Where open-back version offers that spatial dimension, the closed back-set offers the highest accuracy. The only real mistake in this is the padding on the frame. Shure uses the same frame design for this entire range of headphones, so it's not too strange to find the same errors. Performance wise, the SRH1540 is a completely different ball game. Large, flat sound with a lot of accuracy over the entire range is what you can expect.
Pros:
A light yet reliable frame perfect for professional use.
Great set of drivers in a closed back configuration.
Impressive accuracy and detail across the frequency range.
Cons:
Lack of padding on the headband portion of the frame.
Beyerdynamic DT 1770 PRO Studio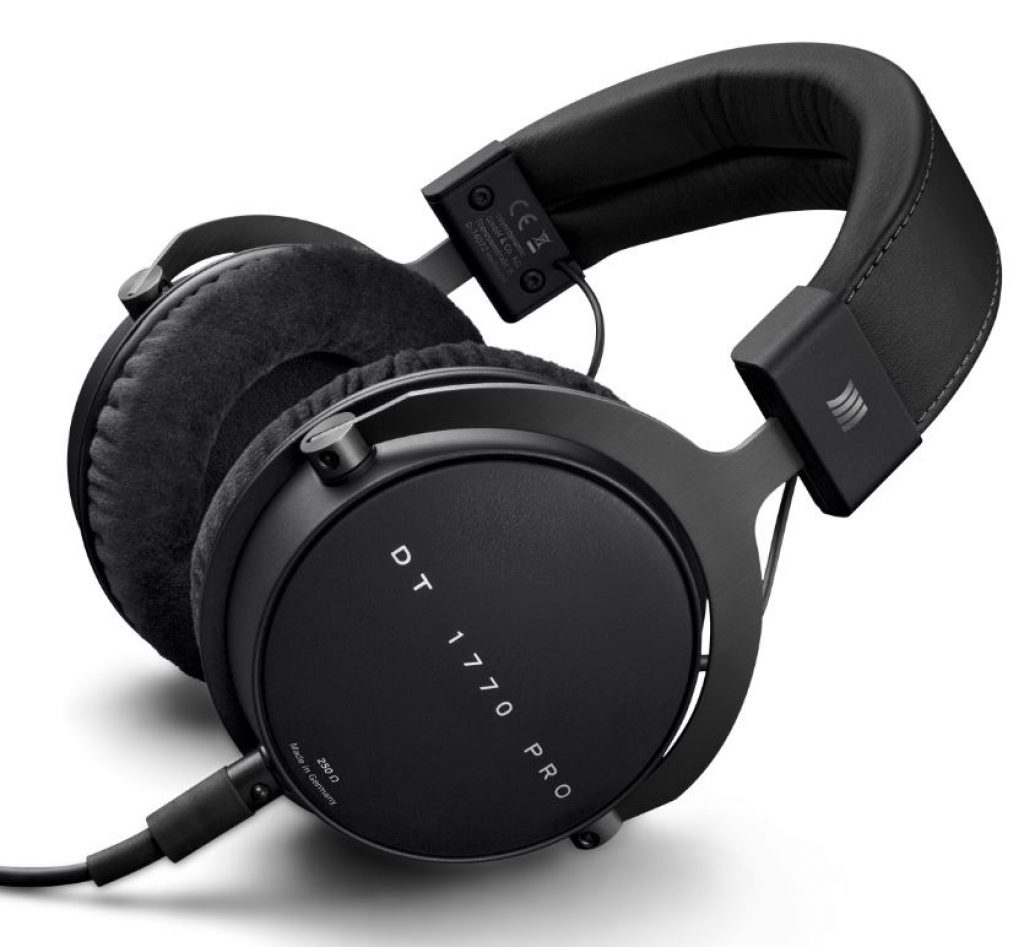 Whether you are trying to get into music production or just want to have good headphones for mastering, the chances are that the Beyerdynamic DT 1770 PRO Studio will do the job and a few more. Despite their simple, unobtrusive design, these are one of the absolute best studio headphones under $500 you can get right now. Especially if you appreciate minimalism. The frame, although simple, is fairly utilitarian. You look at lots of padding and good swivel mounts at a fairly decent weight. The hardware on the inside has the shape of two 45-mm dynamic Tesla drivers with an impedance of 250 Ohm. The performance you get, let you experience how reference monitoring should really sound in perfect conditions.
Pros:
Design that is both attractive and utilitarian.
Great padding and good comfort overall.
Impressive levels of transparency and clarity.
Cons:
Too much-exposed cabling in our opinion.
Sony MDR-V700DJ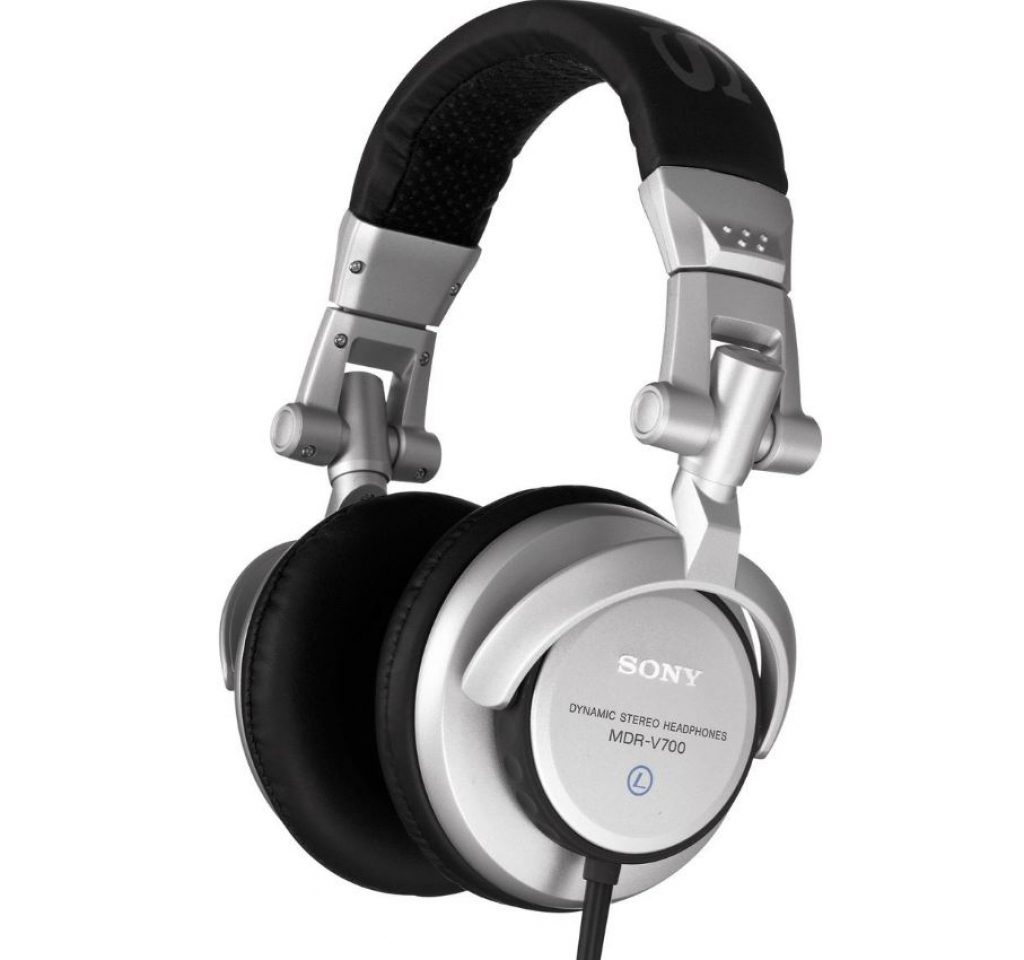 Sony MDR-V700DJ is mainly designed for DJ use and certainly does not look as attractive as some of the models on our list. Whether Sony's decision is to use a lot of silver plastics or a different design, these are simply not all that looks good. That is good because their sound compensates more than enough for the aesthetic failures. Sony MDR-V700DJ has a sturdy frame that is padded with good padding. Apart from that, the frame is quite comfortable, functional, and one of the best studio headphones under $500. The hardware under these cups comes in the form of two 50 mm drivers that are capable of impressive dynamic range. The sound is clear, clear and extremely transparent. In addition, these are designed to meet strict standards for dealing with energy.
Pros:
Great levels of comfort even after prolonged use.
An impressive pair of drivers which pack a mean punch.
Clarity and transparency which makes them quite competitive.
Cons:
Too much silver plastics and odd swivel design.
AKG Pro Audio K712 PRO
The AKG K712 Pro is an open-back-over-the-ear main stage tuned for delivering high-fidelity reference audio for precise listening, mixing and mastering. The low-end performance has been improved with 3dB, resulting in more powerful and precise imaging of sound. The good and open sound quality ensures a good sound in the bass range, while the instruments and the voice are well balanced. The K712 is designed to give you maximum comfort for effortless mixing and mastering while offering a spacious and airy sound without compromise. All such features make it one of the best studio headphones under 500 dollars.
Pros:
That simple AKG frame with its looks and comfort.
One of the best ear pads in the industry.
Impressive hardware and overall performance.
Cons:
The fairly proprietary cable design is a bit limiting.
Sennheiser HD 6 Mix
For the precise, balanced sound you need to produce great mixes, you can count on the Sennheiser HD 6 Mix headphones. It has all the advantages that Sweetwater Sales Engineers expect with their own studio headphones: accurate sound, exceptional comfort, high-quality construction and design with a detachable cable. The HD6 Mix is the kind of headphones that every artist appreciates to follow his mix while giving you the detailed response you need to make mix decisions. Try them out and you might find that the HD6 Mix headphones quickly become your favorite headphones for mixing and monitoring, and are one of the best studio headphones under $500.
Pros:
Simple but comfortable frame design which also looks great.
Great set of hardware which ensures plenty of headroom.
Good, flat sound perfect for studio use and mixing.
Cons:
These come across as fairly bulky.
Phonon Subtonic Monitor Smb-02
Last but not least we want to show you a set of cans from Phonon. These are not as popular as the rest of the brands on our list, but they are certainly capable of maintaining the required performance and then what. What you're looking at here are in fact headphones with a huge stunner for the buck value. What Phonon has done with this set is to combine a great driver design with their advanced tuning theory. On paper, these should really push the boundaries of transparency. In reality, they offer a very flat response across the entire range, making them very good for monitoring. That makes them more than good in our book, especially for the best studio headphones under $500 list.
Pros:
A simple design is pretty reliable.
Great padding all around including the headband.
Good performance with plenty of transparency.
Cons:
Ear pads lack depth and could use some improvement.
Conclusion
Spending this kind of money on headphones is a big step for most new producers. The performance you receive in return is worth it. Moreover, you get a very comfortable tool that makes your daily work so much easier. The models we have chosen for this list of Best Studio Headphones Under $500 are absolutely some of the best you can find there. With whatever you go, you will not be disappointed. All you have to do is find the model that suits your specific needs and requirements.
Best Wireless Headphones Under $500