Do you know the best thing about a drone? You can capture every moment of your life with it. You may have gone out with your family. Have a good time and relax a bit in the summer. Your drone can catch all the precious moments you have with your family. The memories are what make us happy, whether in the mountains when you are hiking or in the snow when you ski. Today we are talking about some of the best drones under $200.
Don't you like if you have your drone covering all those adventurous moments for you? Yes, it's the power of drones. From capturing great pictures to creating crazy videos. The opportunities that can be made with a drone are unlimited. It is not necessary to have the very good technical knowledge to use the device. From grandchildren to grandmothers, everyone can use drones.
Best Drones Under $200: List
Tello
The Tello drone is designed as a joint venture between two drone manufacturers, DJI and Ryze, to bring many features into a drone that costs around $100. The results were pretty decent. The drone can be controlled by a tablet/smartphone, a controller (purchased separately), and by pre-programming using Tello's Edu smartphone app based on the Scratch programming language. This drone has many similarities with the expensive DJI Spark drone.
He has an excellent long flying time of 13 to 15 minutes. The camera takes 5 megapixels of photos and 720p video, which can transfer to a smartphone or a VR headset for exciting FPV flights. It has a range of about 328 feet (100 meters). Take-off and landing are done at the touch of a button. You can also use the "throw and go" function to fly. Throw it in the air, and it will take off by itself. If the battery is low, it will give a warning and land automatically if the communication link is lost.
It has a vision positioning system that allows the operator to select a target over which the drone can float. It has an automatic height control for flying at an altitude that beginners appreciate. The smartphone app has several fun features, which can be used to create video effects, such as follow-me, bounce-up-and-down mode, and circular flying around a certain point. Overall, this is one of the best drones under $200.
[content-egg module=Amazon template=list next=1]
Hubsan H501SS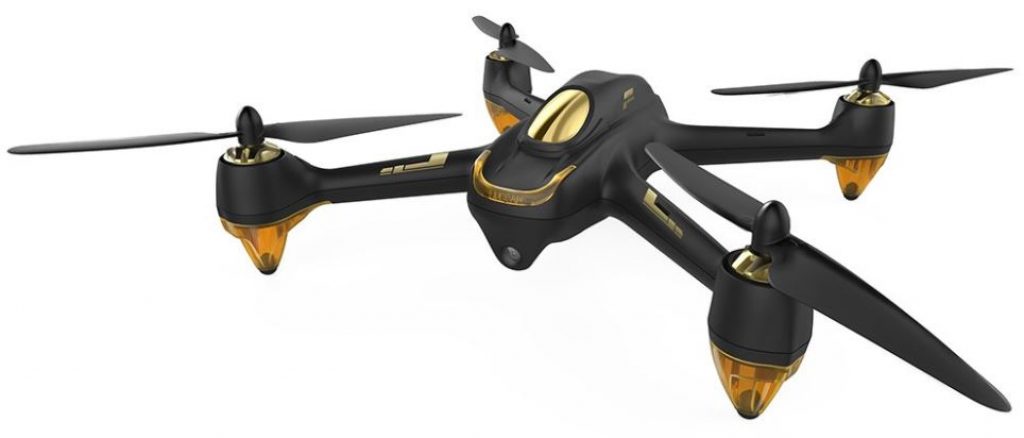 The Hubsan H501SS has features similar to other drones that cost at least $100 more. This drone is the only one in this category that has an HD 1080p video resolution camera. The included controller has a 4.3-inch color monitor with an LCD screen to display a crystal clear FPV of the flying drone. The communication of the drone with the controller receiver works on 5.8 GHz or 2.4 GHz signals. It has a range of 984 feet (300 meters) and can fly for up to 20 minutes.
This drone uses GPS coordinates for positioning. It flies in headless mode, altitude hold mode, and follow-me mode. It has a return-home function with one button that automatically turns on when the communication signal between the controller and the drone is interrupted. The motor is brushless for quieter operation and longer life. It can fly for up to 20 minutes on a single battery charge. Battery charging time is approximately 150 minutes. Overall, this is one of the best drones under 200 dollars.
[content-egg module=Amazon template=list next=1]
Snaptain SP700
There are so many cheap consumer drones on the market today, but not all of them will meet your expectations in terms of performance. However, one model has the potential to meet, if not exceed, what you have in mind. The Snaptain SP700 is a compact and foldable quadcopter that you can easily take with you on your travels. It has a sturdy construction for a pocket drone, but also a lot of other impressive specifications.
Whether you're a novice pilot or a seasoned drone flyer, a glance at what it has to offer is likely to raise an eyebrow. The Snaptain SP700 is equipped with a high-quality modular battery that allows you to fly for 16 minutes. However, the battery takes 3 hours to charge fully, so if you want to make the most of your playing time, it's wise to buy an extra battery. The SP700 uses a 2K UHD camera to capture high-resolution images.
The camera has a field of view of 110 degrees and can be set at an angle of 90 degrees. This not only allows you to get more detail in individual shots but also allows you to adjust the viewing angles. A 6-axis gyroscope stabilizer helps prevent distorted and wobbly shots by keeping the camera stable when flying the drone in windy conditions. Overall, this is one of the best drones under $200.
Altair AA300
The Altair AA300 is another significant choice below $200, and it's one powerful flying machine. It comes with built-in GPS technology, which provides excellent stability when flying and taking aerial photographs. This helps when flying, especially when using the great camera this drone has. Although it's packed with features to make experience flyers happy, they've also included a lot to help beginners get off the ground easily.
It's easy to start flying this drone, and the learning curve from the ground to air is so small that anyone can do it. Add Altair Customer Service, and you have one of the best drones under $200. For starters, the AA300 drone scores well with a 15-minute flight time in the key battery life category. This beats a lot of other drones at this price point. It also has a maximum range of 150 meters, which is not too shabby.
The camera is the real winner of this drone. With a 1080p high definition camera, the quality is simply unbelievable for a drone at this price point. We were very impressed with the quality of both the video and the photos. You also have the option of flying in FPV mode when you connect your mobile device to the drone. This is a great way to get the feeling that you are flying in the drone.
[content-egg module=Amazon template=list next=1]
Holy Stone HS165
Holy Stone HS165 quickly became one of the best drones under 200. Why is that? Well, first of all, it's the best bang for your buck. Worth the investment, especially for beginners. Second, it performs as expected from a modern quadcopter. Most people expect poor performance from a "cheap drone," but that reality faded some time ago. Nowadays, most drones are capable of decent performance, making it easy to fly even for beginners.
HS165D is at the top of the competition and shows how much these modern, "cheaper" drones have evolved. Even without previous flying experience, once you have the HS165 in your hands, you'll see how stable the hover is and how responsive it is. The drone can fly up to 300 – 400 m, which is more than enough for children and beginners, but less than what a lover of his drone would want. However, the flying time is precisely what I need, around 15 minutes.
The video recorded from HS165 has no latency and "jello effect," two common factors in baby drones. The image quality is also slightly above average, which is an excellent addition to an already lovely purchase. Don't get me wrong, of course; this is not High Definition video and pictures. But it does have an excellent 1080p resolution and a lens with a 90º field of view.
[content-egg module=Amazon template=list next=1]
Holy Stone HS120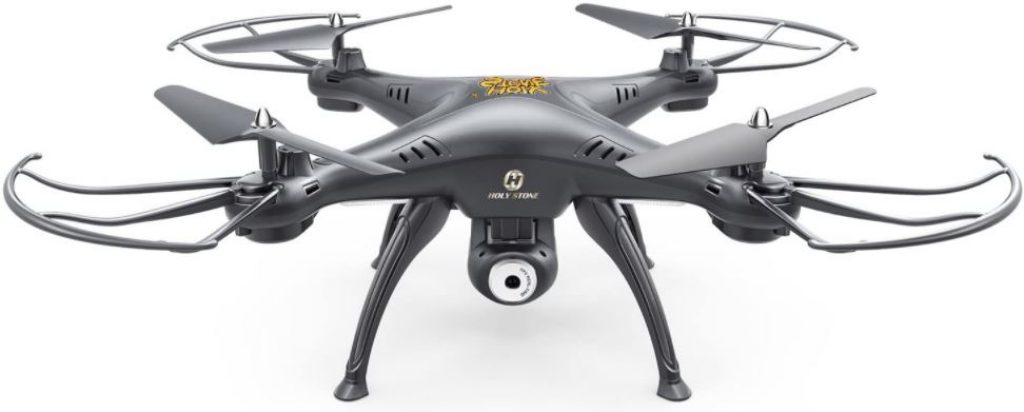 Another Holy Stone Drone, and another strong budget pick. Bundled into a complete FPV package, the Holy Stone HS120 is a miracle. It is fast, acrobatic, and relatively easy to control. The 2.4Ghz remote control has a built-in LCD screen that displays real-time video! Although it may not be the best option for racing, it is a great entry-level racer for anyone who wants to practice driving a fast quad. The HS120 is capable of reaching 45 km/h (28mp/h). It is agile and responsive.
We wouldn't recommend it to beginners; it does require some experience flying a drone. It fights the wind quite well, ideal for flying outdoors. The battery of the drone is a great performer with an exposure time of 18 minutes. The batteries of the controller are 3.7V 450mAh AA. The maximum control range and Live Video transmission are both 300mAh, which is excellent because most toy FPV drones have a lower FPV range than the actual control distance.
The built-in camera has a 1080p resolution and 120º field of view, ideal for racing. It transmits Live Video of the flight directly to the built-in LCD screen on the remote control. Considering the drone's focus on speed and FPV functionality, it doesn't have many possibilities. However, it does come with Headless Mode, 45km/h, Low Power Alert, Modular Extra Batteries, LED lights, and 3D flip. Overall, this is one of the best drones under $200.
[content-egg module=Amazon template=list next=1]
Potensic D80
The Potensic D80 is a brilliant quadcopter, equipped with the best hardware one can have for less than $200. It is one of the few quads on this list equipped with brushless motors. Specifications? Do 600 meters of control distance sound useful to you? Let me start by saying this isn't a drone for beginners. It requires at least an average level of expertise.
Why is that? Well, the D80 is very fast and very maneuverable, in beginner's hands it can be a struggle. The quad is equipped with 4 powerful Brushless engines and can reach up to 40 km/h! Powered by a 7.4V 1800 mAh LiPo battery, the D80 can fly for 20 minutes! Much more than other drones on this Top 16. When it comes to the control range, the maximum control range is 500-600 m (depending on the signal interference), and the Potensic D80 can fly up to 300 meters while streaming full HD without losing connection! Impressive.
The Potensic D80 has one of the best full HD cameras on this list. With the built-in 1080P 5G WIFI real-time transmission camera, it can capture clear images even when the drone is flying at high speed. Overall, this is one of the best drones under $200.
[content-egg module=Amazon template=list next=1]
Altair 818 Hornet
It is one of everyone's favorites, 818 Hornet has a neat design combined with incredible specifications. It also supports Live Video and Custom Route Mapping! Inside and outside, Altair 818 Hornet performs exactly as you would expect from a drone under $200. Excellent stability, fast and gentle turns, generally great for kids and beginners alike. It is also very durable and has 3-speed modes (flight skill levels). From beginner to expert, you're going to love it!
One of the highlights of 818 Hornet is the 15 minute flight time, powered by a 7.4V lipo battery. Best of all, it comes with 2 batteries! So you have a flight time of 30 minutes. Another fantastic feature of 818 Hornet is the long-range of 150 meters. 818 Hornet has a 2MP camera with a 720p resolution and 120º wide-angle lens. The camera is capable of recording some surprisingly good quality videos, but also of taking great aerial photos.
It can also send Live Video via WiFi directly to the pilot's smartphone. The remote control has a phone holder to which you can attach your aircraft when flying with FPV; watch a real-time video. Overall, this is one of the best drones under $200.
[content-egg module=Amazon template=list next=1]
UDI Force1 U45W-A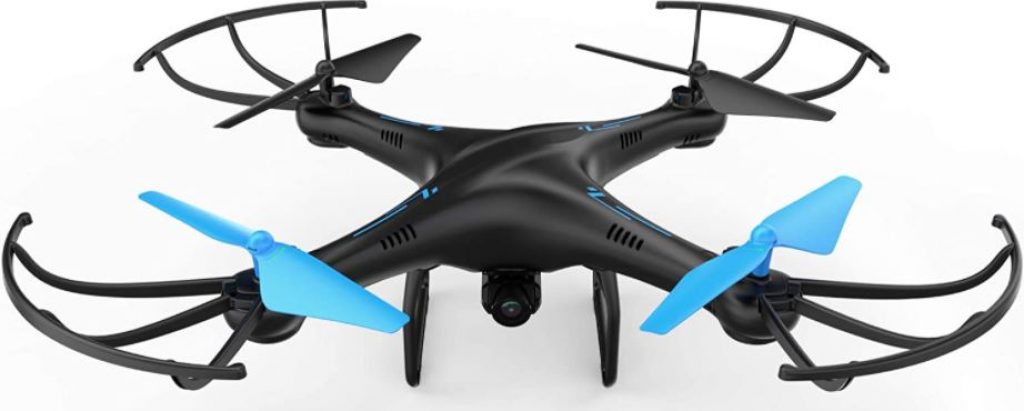 Also known as Blue Jay, UDI Force1 U45W-A is one of the drones most people buy when flying FPV for the first time. This is primarily due to the low price, the emergency landing button, and the total value for the whole package. Equipped with a 6-Axis Gyro system, like most toy drones, the UDI U45W-A performs above average. Stable hover and excellent maneuverability make it a good starting drone. Keep in mind, however, that it doesn't handle the wind very well (it is very light in weight).
While the control distance meets the average specifications for drones under $200, 100 meters, the flying time is a bit disappointing, only 7 to 8 minutes, which is a bit undersized. The battery used is 3.7V 500mAh LiPo (included). One of the most exciting features of the U45W-A is the 2MP camera with a 720p resolution. This allows you to share good images and aerial photos with your friends. The Live Video is also of good quality and is sent directly to your smartphone via a free downloadable app (Android and iOS).
Altair AA108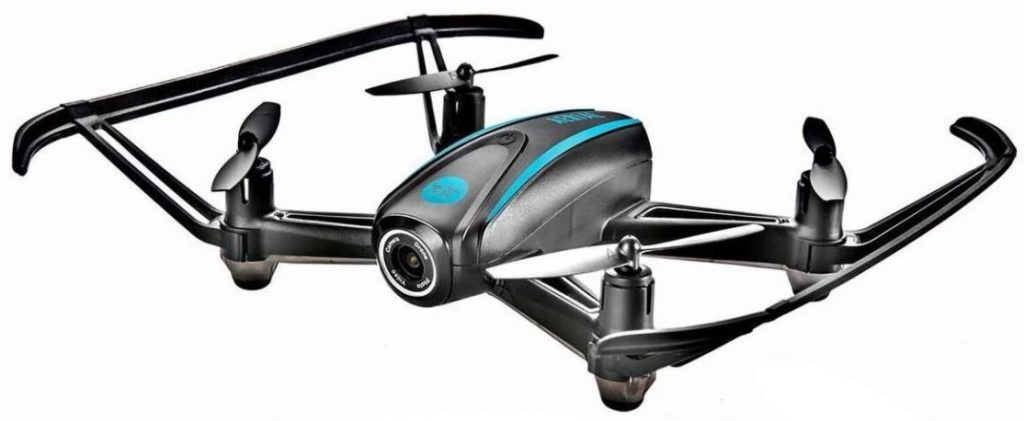 A clone of the famous Parrot Bebop. Altair AA108 has a very similar design and is a cheap alternative to the popular Parrot quadcopter. Yes, it comes with a built-in 720p 120º Wide Angle camera! Indoors or outdoors, the Altair AA108 is a great quadcopter to fly. From beginners to export, the AA108 is loved by everyone. It is a soft kite but can be quite acrobatic once you master it and start flying at higher yaw rates (3-speed modes). The specifications are right on average.
The flying time is below average, only 7 minutes max, powered by a 3.7V 1S lipo battery (included). The control distance is also a good 100 meters. Great camera! The image quality is excellent, certainly worth the price for this 720p HD camera with a 120º wide-angle lens. We were surprised by it, no doubt a 10/10 degree, we highly recommend it if you are searching for a cheap drone with above-average image quality. Live video image is also amazing (although it has a short-range; 50 meters). Overall, this is one of the best drones under 200 dollars.
[content-egg module=Amazon template=list next=1]