Are you looking for the Best Audiophile Headphones in the world? Then you will find in this guide the best audiophile headphones offering phenomenal and realistic performances. Remember, these are the most expensive headphones on the market, but if you're looking for a product that offers the best features in the industry, you need to be willing to pay a little more. You will notice that we have included options of different brands, so there is a lot of choices.
The main buying considerations are also discussed in this buying guide, which helps you make the right purchase. Some of the buying factors we will include are audio quality, comfort, Bluetooth connectivity, and durability.
Best Audiophile Headphones Comparison Table
Best Audiophile Headphones
Headphone Name
Battery Life
Connectivity
Sennheiser HD 700
No
Wired
Sennheiser HD 600
No
Wired
Bose QuietComfort 35 (Series II)
20 hours
Wireless
Audio-Technica ATH-MSR7BK
No
Wired
Sennheiser PXC 550
30 hours
Wireless
Beyerdynamic DT 990
No
Wired
Audio Technica ATH-AD700X
No
Wired
Noontec Hammo Go
60 hours
Wireless
V-MODA Crossfade LP2
No
Wired
AKG Pro Audio K702
No
Wired
Things To Know Before Buying The Best Audiophile Headphones
Comfort
The best Audiophile headphones should not only be known for their audio quality, but also for how comfortable they are to wear. After all, if you are going to use it for professional purposes, it is logical to buy a product that you can wear for a long and long period. The headband contributes a lot to the comfort level of the headphones. A soft material that feels comfortable is ideal, but it must also be sturdy so that it does not break easily. A highly adjustable headband is desirable, so you can adjust the fit to the size of your head.
Top 10 Best Wireless Headphones Under $500
The ear cups are another big factor when it comes to comfort. You have to pay attention to the size and ensure that they are big enough to fit your whole ears inwards. This ensures that you will not experience any pain and pressure on your ears while wearing the headphones. Another factor contributing to comfort is the weight of the headphones. Lower weight is ideal, but be careful when selecting a very lightweight headset. That is because when the weight is reduced, this usually happens with materials of lower quality that can sacrifice the durability of the headphones.
Sound quality
We are confident that all listings in this list provide excellent audio, especially in the more expensive categories. When determining the audio quality, consider the frequency range, audio drivers, sound insulation and the brand. You can watch some of these headphones in large nearby shopping malls to see how they fit, but most models will probably not be there. Many are sold exclusively online or in specialty stores. Examine the return policy before you order and simply return products that are not perfect.
Each brand emphasizes different sounds when tuning their headphones. For example, Sennheiser headphones have less powerful bass tones, improving the authenticity and accuracy of the audio. Note the reputation the company has earned for how their headphones sound. Also, check that the headset is closed or open.
Durability
If you buy expensive audiophile headphones, you want them to stand the test of time. Therefore, pay attention to the materials used and how well the headphones have been designed. Where possible, we mention the durability of the products we have covered in this guide. However, you must also perform background checks to learn more about how a particular product is manufactured. Looking at the warranty period and what it covers is a great first step to identify the confidence that the manufacturer has in his own product. A brand would not be willing to give a long-term guarantee if they were not sure about the overall design of their product.
Brands
You have to pay attention to the brand when buying an audiophile headset because that determines the overall style. Brands keep the same important characteristics in terms of ergonomic style and type of audio offered. The brand that you choose will also play a major role in determining how good the customer service will be after you have made the purchase. The type of warranty that you receive is also determined by the brand you choose. Some have a great reputation as warranty coverage, while others always try to break the repair of broken products.
Bluetooth technology
There is an argument to think about why Bluetooth headphones are simply better than wired. That is because you have more freedom because you can move without the limitations of a thread. You can get a drink from the kitchen without removing the headphones or sitting at the end of a room to enjoy a movie on the couch. Please note that Bluetooth technology is not identical in all headphones. Every year upgrades to Bluetooth technology are made, so pay attention to which version you are going to buy. Of course, it is the best way to use the latest version to improve the quality of the wireless connection.
Here are the Best Audiophile Headphones, arranged according to the audio quality, built design, and price ratio:
Sennheiser HD 700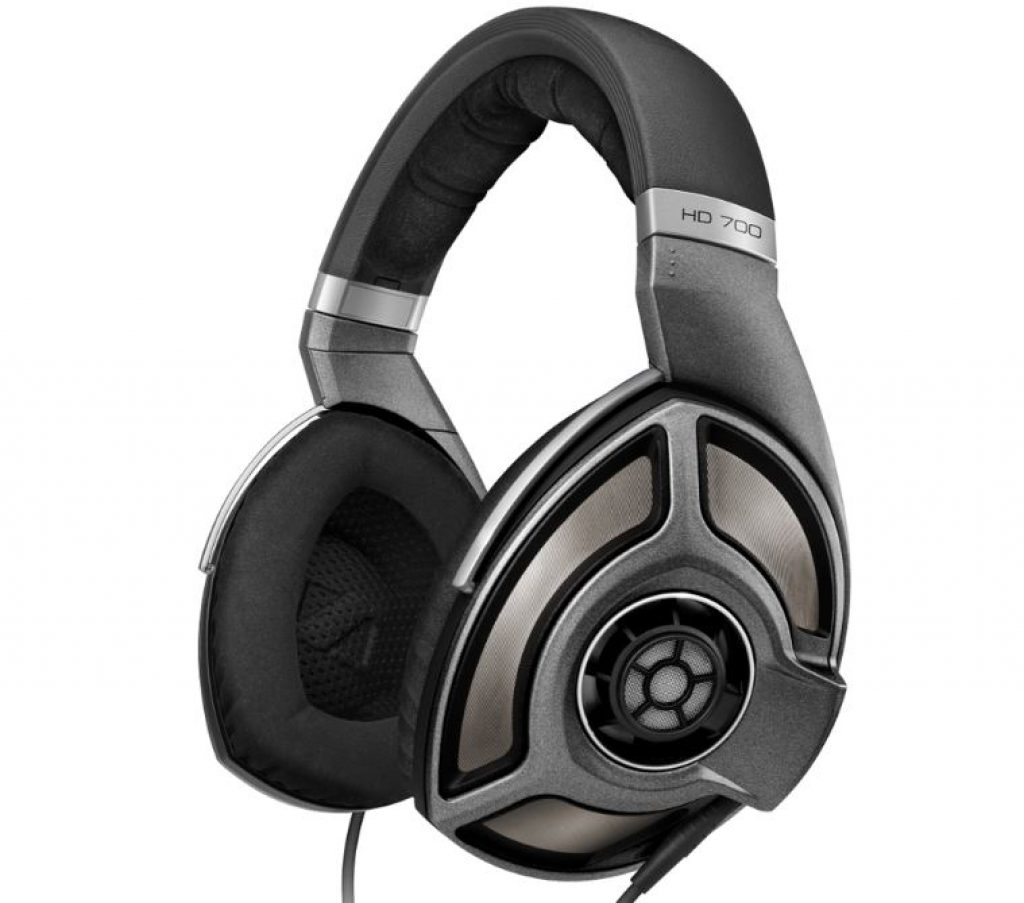 These open circumaural dynamic headphones offer high bass and clear highs. The three-meter symmetrical silver-plated oxygen-free copper cable has excellent endurance and helps deliver HD stereo music straight to the ears. In addition, the frequency response is excellent, from just 8 Hz to no less than 44,000 Hz. In addition, the Sennheiser HD 700 headphones are specially tuned to deliver high-pressure sounds and flat frequency response. This is due to the nominal impedance of 150 ohms.
Also, the highly optimized, ventilated magnet system minimizes air turbulence and sound distortion, so you only hear the finished product of Full HD audio. Furthermore, the headphones use ear cups with an open back to facilitate transparent sound and a clear transparent sound. The design is sleek and looks professional thanks to the metal sculptures of the body. The headband is fully adjustable and does not put much pressure on the head, making them one of the best audiophile headphones and ideal for people who want to stay for a long time.
Pros:
Comfortable to wear for long periods
Durable headband
Wide frequency range
Cons:
Painful to use when listening to certain genres of music
Highs can sound way to sharp
Sennheiser HD 600
Another great product from Sennheiser is the Sennheiser HD 600 Open Back Professional Headphone because of the many features that accompany it. With a cost of about $100 less than the HD 700, these headphones deliver almost the same high-quality melodies due to the dynamic drivers used. However, this model has more total harmonic distortion, which can sometimes be annoying to hear. In addition, the open metal mesh grids of high quality ensure clear transparent sounds directly in your ears. Because of the design, the open-back headphones let your ears breathe, making them sweat when worn for a long time.
In addition, the headband is made of premium quality and has a tight, stable fit on your head, which reduces the chance of falling off during movement. Moreover, the copper cable reinforced with Kevlar is completely detachable, so you can adjust the headphone to suit your situation. The neodymium ferrous magnets also ensure optimum sensitivity and excellent dynamic response. In addition, the magnets contribute to wider frequency response (12 Hz – 39,000 Hz). Overall, these are one of the best audiophile headphones to buy right now.
Pros:
Customizable wire
Open-back design
Great frequency response
Cons:
Can be burned if you play at loud volume for long periods
Not as durable as other headphones
Bose QuietComfort 35 (Series II)
The Bose QuietComfort 35 (Series II) wireless headset comes with a built-in microphone that features noise rejection features to allow clear conversations in crowded areas. You can also set the level of noise reduction to better suit your environment, making these headphones safe for outdoor use. In addition, the Bose QuietComfort 35 volume-optimized EQ makes your music sound better, whether you're in an airplane, train or in a public space. The Bluetooth and NFC connection enable quick and stable connections, while interruptions are also reduced.
However, the headset comes with a 47.2-inch audio cable in case you forget to charge the headset. In addition, the life of the battery is large with 20 hours of wireless playback and up to 40 hours when used in wired mode. The reason for this is that the headphones consume less battery power when connected to a smart device, while the quality of the beats is still high. In addition, you can download the Bose Connect app for even more features, such as adjusting levels for canceling noise, Bluetooth connections, and future software updates to further enhance the headset.
Pros:
Customizable app
Comfortable earpads
Long battery life
Cons:
Bluetooth connectivity is not reliable
Frequency range could be higher
Audio-Technica ATH-MSR7BK
The Audio-Technica ATH-MSR7BK SonicPro headphones are designed to reproduce HD audio so that users can hear the music as it was intended. The headset above the ear is made with exclusive 45 mm True Motion drivers that make maximum use of lightweight voice coils. A specially designed diaphragm is used to improve the circuit board and this results in a wider frequency range. In addition, the multi-vent air dampening technology extends the mid to low frequency response even further, so you hear almost every note in a beat.
The metal housings are designed to reflect the shape of the ear and help drivers to bring music directly to the ear canal. In addition, the headband is designed to fit your head for maximum comfort and the earpieces are equipped with special memory foam padding for a comfortable fit. The Audio-Technica ATH-MSR7BK SonicPro headphones also have a built-in microphone that allows you to make calls on the go without interruption. All in all, they are one of the best audiophile headphones to go for.
Pros:
Memory foam earpads
Built with air vents
Comfortable to wear
Cons:
Headphones are not noise canceling
The microphone doesn't block out background noises well
Sennheiser PXC 550
The Sennheiser PXC 550 wireless headphones are specially tailored for travelers. These headphones are portable, durable and lightweight for easy use. Noise reduction is great and blocks all background noise that improves your listening experience since you can now hear all notes. Moreover, the life of the battery is longer than with most headphones after 30 hours with a single charge. The connectivity technology is Bluetooth 4.2 and NFC coupling. Because of this combination, the headset has an extensive connection range.
Top 10 Best Earbuds Under $500
However, if you forget to use the Sennheiser PXC 550, you can connect a cable to listen to music that Sennheiser mentions in the package. Moreover, the design of the headphones is lightweight, making them ideal to take with you on a trip. An ergonomically shaped, padded headband also rests firmly on the head and does not put too much pressure, so you can wear them for hours without any inconvenience. The Sennheiser PXC 550 is also completely foldable, making them one of the best audiophile headphones.
Pros:
Excellent design
Comfortable to wear
Long battery life
Cons:
Sound quality could be better
Over-priced
Beyerdynamic DT 990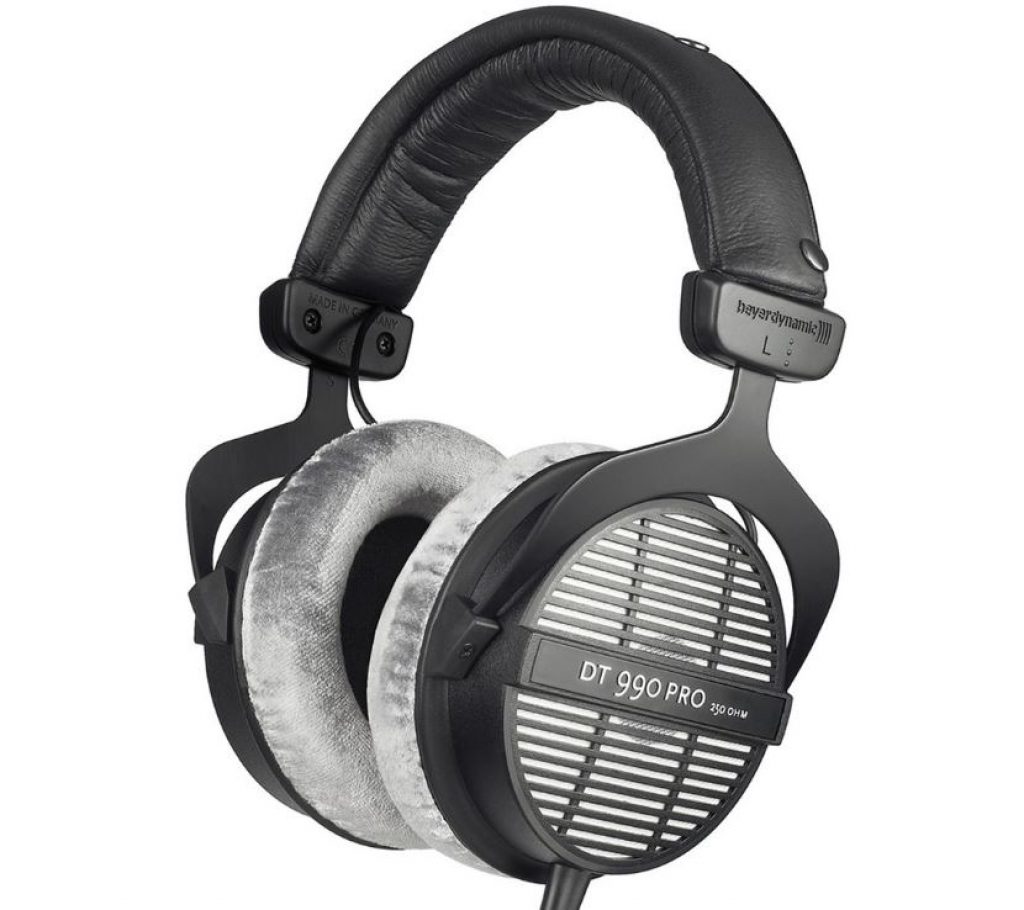 The Beyerdynamic DT 990 Premium is an open back headset, which means that the air can pass through freely. However, this means that background sounds can even be heard at the higher levels, but this makes the music sound like it is being played through a loudspeaker. Thanks to the higher frequency response (5 Hz – 35,000 Hz), the headphones can also produce a brighter bass, ideal for listening to fall, home, techno and watching TV. In addition, the velvety soft ear pads offer a great comfortable listening experience and make them one of the best audiophile headphones.
The ear pads also let the ears breathe, which means that there is no sweaty ear syndrome after hours of using these headphones. Also, the headband is fully adjustable and has a tight fit so that the headset can not fall while moving. In addition, the Beyerdynamic DT 990 Premium is super light and weighs only about 11 ounces. This makes them great to travel because you will not even feel them there. If the headset breaks, Beyerdynamic offers a two-year manufacturer's warranty. It does not cover accidental damage, such as dropping the headphones.
Pros:
Velvety soft earpads
Made in Germany
Lightweight design
Cons:
Bass sometimes doesn't sound clear
Drivers could be tuned better
Audio Technica ATH-AD700X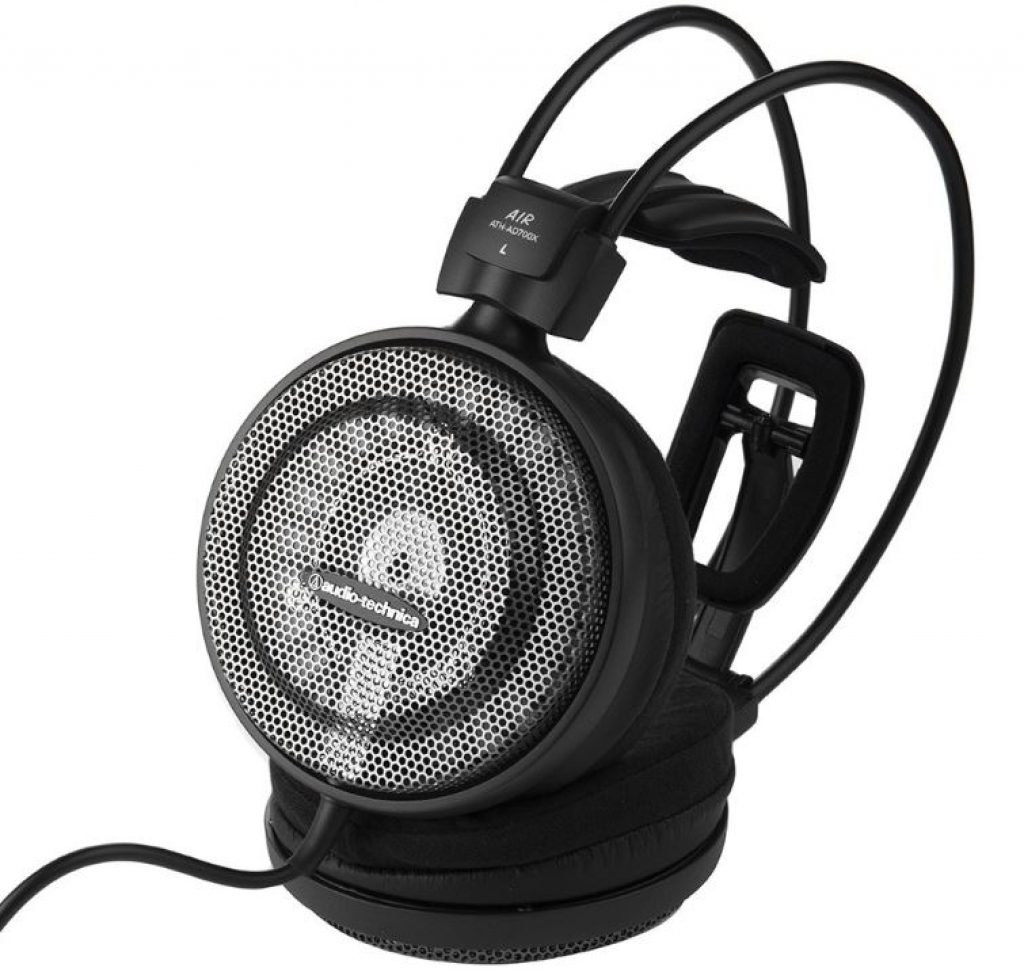 The 53 mm drivers in the Audio-Technica ATH-AD700X reproduce clear highs, lows, and midtones. These headphones are designed to be worn for a long time and are one of the best audiophile headphones. That's why the designers have filled the hearing protectors so that they are as comfortable as possible. The headband adjusts automatically to your head size for easy wearing and listening comfort. In addition, the connectivity technology is wired – a straight cord to the left of the earpiece sends fast frequency waves directly from your device to the headphones.
Unlike most headphones, the Audio Technica ATH-AD700X has a wider frequency range of 5 Hz to 30,000 Hz, allowing you to hear deeper bass levels. Also, the headphone is open air through which oxygen is transmitted. This means that the sound image will be fuller and will build up less heat. The ear pads are also made of flexible material that is durable and soft to wear. The gold-plated stereo connection is available in two 3.5 mm and 6.3 mm sizes, making them compatible with almost all devices.
Pros:
Compatible with most devices
Open-back design
Wider frequency range
Cons:
Cable could be better designed
Break easily
Noontec Hammo Go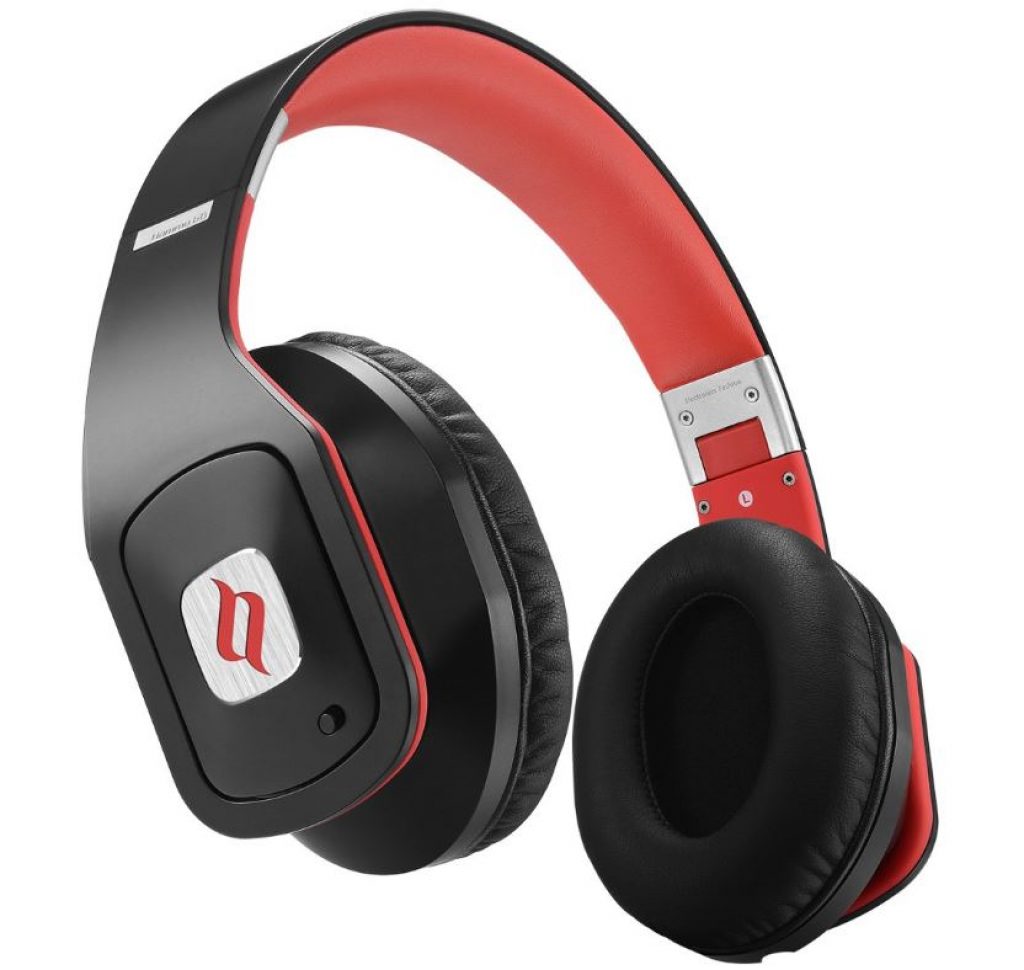 Thanks to its distinctive technology, the Noontec Hammo Go Active noise canceling headphones can produce large bass, treble, and treble. In addition, the headphone noise reduction, which means you can listen to beats without the audio around you is annoying. Moreover, the Hammo Go is made for people who want to look stylish when they listen to music. The first-class materials give the headphones a modern shiny appearance and the red finish makes the headphones even more expensive.
The ear pads are also extremely comfortable to wear and can rotate to better suit the user. Moreover, the design is fully collapsible, so that the space it occupies is reduced by half, making it ideal for traveling. In addition, the life of the battery lasts up to 60 hours, which is more than the average Bluetooth headphones. In addition, the headphones are made for extremely long periods (7 – 8 hours), making them ideal for traveling with airplanes, trains, and buses.
Pros:
Sleek design
Noise canceling
Great frequency response
Cons:
Batteries get worn out pretty quickly
Can be a little tight on the head for some users
V-MODA Crossfade LP2
The V-MODA Crossfade LP2 Vocal Limited Edition headphones are very durable and have a military level of MIL-STCD-810. The ultra-amplified cable can withstand up to 1 million turns, which is 100 times more durable compared to other premium headphones. In addition, the SteelFlex headband can carry up to 10 flat bends and up to 60 drops on hard concrete with a 1.5-meter drop. In addition, the passive sound insulation knew unnecessary noises so that you can fully enjoy the music. The 50 mm dual aperture drivers produce vivid bass, clear midtones and astonishing highs without any annoying overlap.
The ear cushions also help with sound insulation by sealing your ears to bring music directly to the ear canal. Moreover, 4 years of research led the team to decide on ergonomic hexagonal pads, which are more effective in sound waves. In addition, the headband reduces the power on your head to a minimum, making wearing the headset is not a problem for long. However, if you succeed in damaging the headset, V-MODA offers you a two-year warranty to cover the damage. Such things make it one of the best audiophile headphones.
Pros:
Ultra-lightweight
Noise canceling
Comfortable to wear
Cons:
Wire jack can bend after multiple uses
Can be a little tight on the head for some users
AKG Pro Audio K702
AKG is one of the first electronic companies to build their headphones with a revolutionary flat-wire design. The result of this design is an excellent clarity of all notes. The low and high tones are further improved because the headphones have a frequency range of 10 Hz to 39,800 Hz. AKG has also improved the overall feel of the product because they use premium padded leather. The headband is fully adjustable and sits comfortably on your head with minimal pressure, which means that you can wear it for a long time without tension.
Also, the earmuffs are made of soft memory foam and gently cover the entire ear for maximum fit. Moreover, the cable is extremely durable and removable, which means that you can adjust the headphones to suit the occasion. The ear cushions are also replaceable, so you can exchange them for your own personalized. Overall, the AKG Pro Audio K702 is one of the best audiophile headphones that you can buy right now.
Pros:
Open Back design
Studio-grade
Comfortable to wear
Cons:
Pricey option
Headband could be improved
Conclusion
A few years ago we had compiled a list like this and we still had a lot of space left, but nowadays there is so much choice on the market that we have to do a lot of hard work to compile this list. In our list of the Best Audiophile Headphones, that comprises 10 best headphones ranging from $500 to $200 sequentially. Let us know your thoughts on this list by leaving your comments in the box below.
Originally posted 2019-01-07 21:16:49.
The Techgadgetguides is a participant in the Amazon Services LLC Associates Program, an affiliate advertising program designed to provide a means for sites to earn advertising fees by advertising and linking to Amazon.com Inc.