With so many options on the market, getting the Best 3D Printers Under $2000 can be a nightmare. It takes time, is tiring and confusing. Not to mention that you can easily fall into the traps of marketing and end up with the wrong 3D printer. We are here to make you feel good the first time. In this guide, we'll discuss the best 3D printers under $2000 – and we're only pointing to the best of the best. So, no, you will not see any of these cheap 3D printers that you can buy for under $500. We have a separate guide for this. Here is an overview of the products you will see in this list of the best 3D printers under $2000.
Best 3D Printers Under $2000 Comparison Table
3D Printers Under $2000
Printer Name
Connectivity
Weight
MakerGear M2e
USB, SD Card
26.5 lb
Sindoh 3DWOX DP200
USB, Wifi
33.1 lb
LulzBot Mini 2
USB
18.9 lb
FlashForge Creator Pro
USB, SD Card
37.5 lb
MakerBot Replicator Mini Plus
USB, Wifi
20.5 lb
Here are the Top 5 Best 3D Printers Under $2000
MakerGear M2e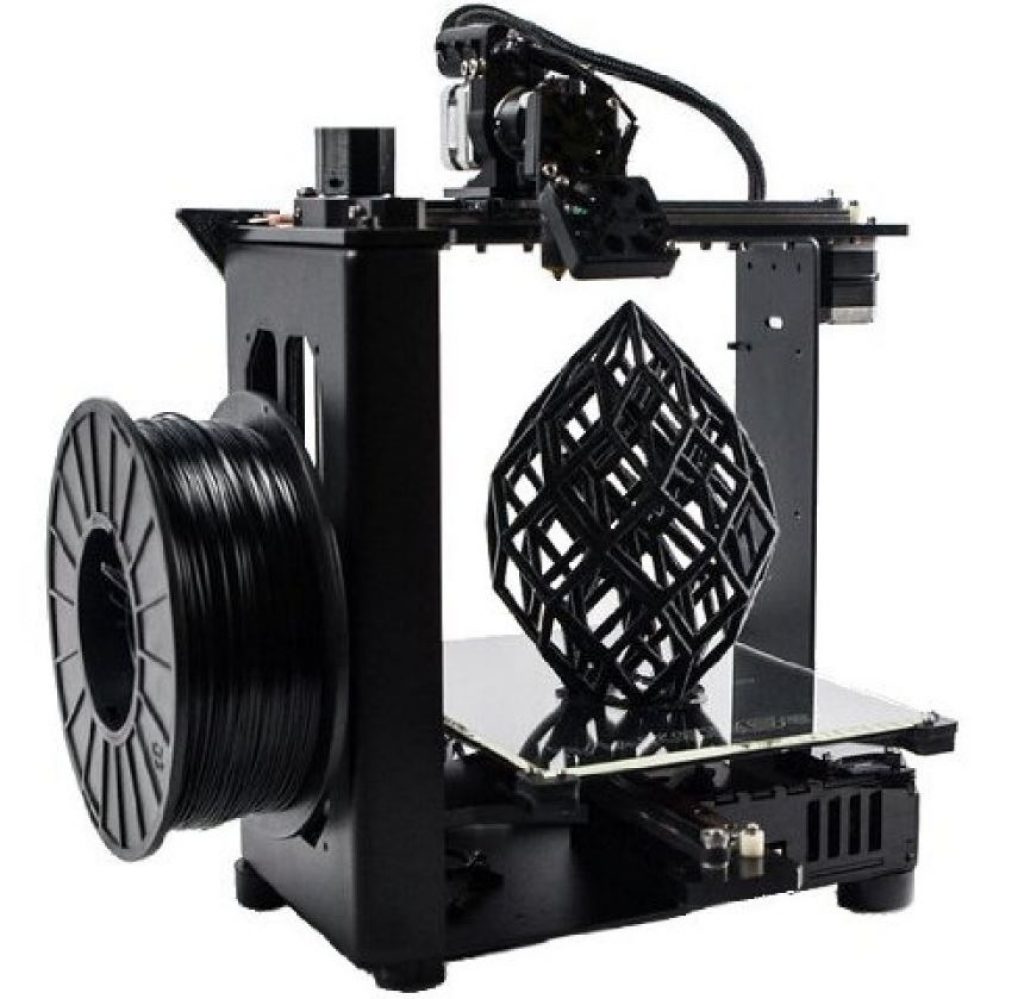 If you have a budget of $2000, you can count it better because it's not every day that you spend twice on a 3D printer. But since no 3D printer is ever perfect, regardless of the price range, the best option is to opt for a 3D printer that offers excellent value for money and easily performs the job with minimal problems. Here's the MakerGear M2e, a 3D printer that offers exactly that and is one of the best 3D printers under 2000 dollars. This is the fifth generation of the M2 series of 3D printers: a series characterized by excellent quality and reliability. It comes in a secure package, so you do not have to worry about broken parts that have suffered during transport, a common problem with 3D printers made in China.
Top 5 Best 3D Printers Under $1000
The M2e with open frame has a beautiful black finish that gives it a beautiful appearance on any desk. It is equipped with a single extruder and comes with a built-in spool holder, which reduces the load on the machine. In general, the design is solid and well thought out, without any case of foreign components. One of the most important selling points of the M2e is that it works right away. There is no need to assemble and spend hours at the first installation, which can be a discouraging process for those who do not know electronics.
Although the user manual is not perfect, the M2e configuration does not take more than an hour. If you are familiar with electronics, you can go from unpacking to printing your first article in less than 30 minutes. However, configuring the M2e to optimize settings is another story. The manual only applies to the base, so you can not rely on it to guide your hand. For tips and detailed instructions on how to get the M2e-up form, you need to go to special forums on the Internet. Overall, this is one of the best 3D printers under $2000.
Pros:
Easy to use and manually calibrate
Large maximum print size
Terrific print quality
Heated build plate
Open-source hardware and software
Supports various filament types
Cons:
No cover
Noisy
Single extruder
back to menu ↑
Sindoh 3DWOX DP200
The Sindoh 3DWOX DP200 is the most plug-and-play printer and one of the best 3D printers under 2000 dollars. It's so easy to install that you find it almost ridiculous that during the first installation, you do not have much to do. to work. Most predefined 3D printers take a few hours to configure, including calibrating the machine and installing the printer software. But with the DP200, you can switch from packaging to printing in 10 to 20 minutes, depending on how quickly you read the manual. It contains a number of features designed to make 3D printing as simple as possible for beginners, especially non-techies.
On the hardware side, the DP200 comes with a leveling system with supported beds that converts the level into a single bed. All you have to do is rotate the gears under the print bed according to the instructions on the touch interface and you're ready to go. Filament loading is also easy thanks to the automatic loading system. Just pull the thread into the machine and … well, that's it. The machine takes care of everything else when the cartridge is loaded. Inside, the DP200 features a removable print bed that allows quick removal of completed projects.
It has excellent adhesion as standard, so you do not have to do tricks like glue or tape. All moving parts are fixed in the printer, giving it a clean, professional appearance. It is also equipped with a built-in camera that allows you to track your progress remotely (via Wi-Fi). On the software side, the DP200 comes with 3DWOX Desktop Printing Software. It is a user-friendly software with a simple mode for beginners, which is very neat. Overall, this is one of the best 3D printers under $2000.
Pros:
Fully enclosed
An assisted bed leveling system
Auto-loading filament system
Remote monitoring via Wi-Fi
Large build size
Easy-to-use touchscreen interface
Cons:
Requires proprietary filament
Limited to PLA and ABS filaments
back to menu ↑
LulzBot Mini 2
If the M2 MakerGear and the Sindoh 3DWOX DP200 – our choices for the best choice and the best budget, respectively – had a crossover effect, the result would be the LulzBot Mini 2. a good balance between value and accessibility and is one of the best 3D printers under 2000 dollars. The LulzBot Mini 2 is a non-integrated 3D printer with all fully illuminated moving parts. It is housed in a sturdy frame that keeps it stable during printing. With the power box attached to the side, its footprint is smaller than other open-frame 3D printers, typically supplied with a large control box.
Even with the fully illuminated mechanisms, the LulzBot Mini 2 continues to give a professional image. Like the DP200, the LulzBot Mini 2 requires a little DIY to prepare it. It's not a piece to classify it as a plug-and-play 3D printer. It comes assembled and requires only about 30 minutes for initial calibration and software installation. Upgrading the bed is child's play thanks to the automatic leveling system that works. The Cura custom printing software is the other ingredient that facilitates the transition from unpacking to printing.
Top 6 Best 3D Printers Under $200
It has been designed to be easy to use. It's easy to navigate and contains simple options for cutting your 3D models. The print quality of the LulzBot Mini 2 is homogeneous and precise. It contains a fast heating print bed that does not require any gadgets to get a reliable grip. It can be configured to print different types of materials, including ABS and PVA. Its volume of construction is quite large, but you may find it insufficient for more ambitious and complex projects. Overall, this is one of the best 3D printers under $2000.
Pros:
Hassle-free bed leveling
Open-source
Fast-heating build plate
Excellent print bed adhesion
Good technical support
Optimization guides readily available online
Cons:
Limited to tethered USB connection
No enclosure
back to menu ↑
FlashForge Creator Pro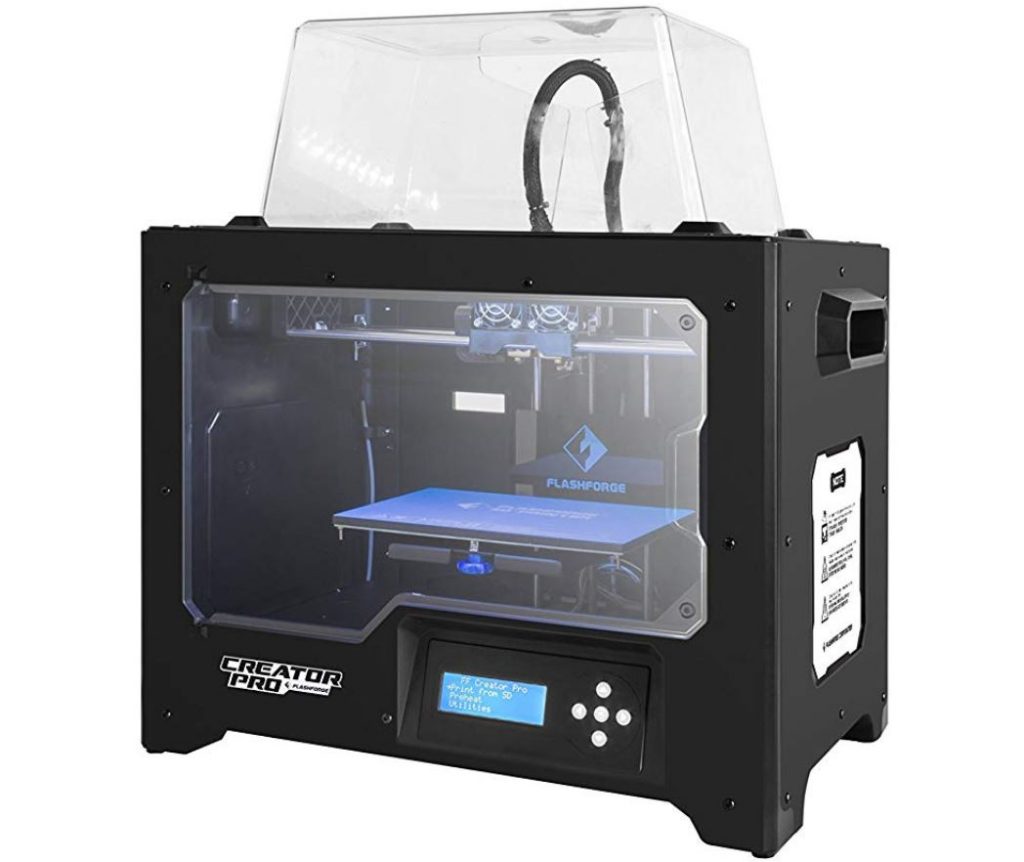 It is rare for you to encounter a double extruder 3D printer that you can buy for less than $2000. We have only found two or three products that deserve at least a second search. The FlashForge Creator Pro is the best of the group with a considerable margin and is one of the best 3D printers under 2000 dollars. A fully enclosed 3D printer, the Creator Pro is an affordable MakerBot clone, delivered in a neat and secure package, which is essential for a delicate machine delivered from the other side of the world. It contains everything you need to get started right away, including some filaments and a set of tools and parts.
The first installation is quick and easy. It takes about 30 minutes to an hour to prepare everything, depending on your technical skills. The manual is easy to follow, although it can sometimes be vague. Therefore, in some areas, you have to make a lot of approximations. It's best to check out YouTube tutorials to make sure everything is fine. The print quality of Creator Pro is satisfactory for a 3D printer under $ 1,000. It is detailed and precise, although you did not expect a star rating in the first attempts. For results you can be proud of, you have to play with the parameters and see what works.
However, we recommend that you back up the standard software and replace it with more versatile 3D printing software, such as Simplify3D, OctoPrint, Slic3r, and MakerWare. Equipped with a heated bed with printing, the Creator Pro can print with different types of filament, including ABS, hose, and nylon, provided you have the right settings. For better adhesion and quick removal of completed 3D models, we recommend that you replace the standard print bed. Overall, this is one of the best 3D printers under $2000.
Pros:
Dual extruder setup
Heated build plate
Easy to set up and calibrate
Good print quality
Compatible with commercial software
Supports third-party filaments
Cons:
Loud
Limited default software
Needs glass bed
back to menu ↑
MakerBot Replicator Mini Plus
If you want a mini-3D printer with a wireless connection that really works, the MakerBot Replicator Mini Plus is for you and is one of the best 3D printers under 2000 dollars. This is the largest and best version of the original Replicator Mini, with higher print size and speed. The Replicator Mini Plus is housed in a striking open frame, with a built-in filament holder at the back. It has a small footprint and is light enough to be easily transported to the home or classroom. It does not have a built-in interface for direct operation – everything is controlled from your computer or smartphone.
Inside, the Replicator Mini Plus has a printed bed at the factory. So you do not need to manually level the floor, which can be difficult and time-consuming. It has an integrated camera for remote monitoring of your progress and a "smart extruder" that automatically pauses during a filament lock. In addition, the Smart Extruder – officially called "MakerBot Smart Extruder Plus" – can determine if the printer does not contain a filament. Like all the other 3D printers presented here, the Replicator Mini Plus is incredibly easy to set up.
The first configuration runs through the MakerBot application. Just follow all the instructions and your printer is ready for use in no time. The standard software is user-friendly. It is easy to navigate and contains simple options so that beginners can quickly become familiar with the 3D printing settings. On the other hand, the standard software lacks more advanced options, which can be a decisive factor for professionals. But overall, it's one of the best 3D printers under $2000.
Pros:
Intuitive app-based initial setup
Fairly fast print speed
Filament run-out notifications
Filament jam detection and auto-pause
Remote progress monitoring and control
Excellent adhesion on the quick-release print bed
Cons:
Loud
Optimized for expensive MakerBot filaments
Limited to PLA
Limited printing software
Final Words
Now you do not have to worry if you want to try 3D printing technology. With many 3D printers that you can easily find and buy, you can use this advanced printing method at home. Of course, with the list of the Best 3D Printers Under $2000, you can also get the printer you need at the most affordable price. You can choose the printer you find above to save more money. And of course, the most important thing is not just the price. Functionality also plays an important role in determining the best 3D printers under 2000 dollars that are right for you.
Top 5 Best 3D Printers Under $1500
Originally posted 2019-02-03 23:58:46.
The Techgadgetguides is a participant in the Amazon Services LLC Associates Program, an affiliate advertising program designed to provide a means for sites to earn advertising fees by advertising and linking to Amazon.com Inc.