For music production, it takes much more than just skills. As with any other job, it is essential to have the right tools. However, things get complicated when you try to get these tools on a limited budget. Fortunately, there are still options on the table. Today we will show you the Best Studio Monitor Speakers Under $100. These monitors may not be the best on the market, but they will do the work and allow you to continue your passion for music. With that in mind, let's start with the list, then we'll tell you what to expect from the best studio monitor speakers under $100.
Here are the Top 10 Best Studio Monitor Speakers Under $100
Sterling Audio MX3
Finding a good set of affordable speakers used to be very difficult. Although the situation is not significantly better nowadays, we have seen a number of improvements. Such an improvement are models such as Sterling Audio MX3. These speakers are exactly the definition of value for money. Compact, well made and quite powerful, MX3 delivers very impressive performance at an affordable price. You are looking at a 20 Watt setup, consisting of a 3/4 "silk dome tweeter in combination with a 3" low-frequency transducer. What makes MX3 really interesting is the fact that both speakers are bi-amped and run from a class A/B unit. In the field of performance and transparency, Sterling Audio MX3 offers a decent experience and is one of the best studio monitor speakers under $100.
Top 10 Best Bookshelf Speakers
back to menu ↑
Akai Professional RPM3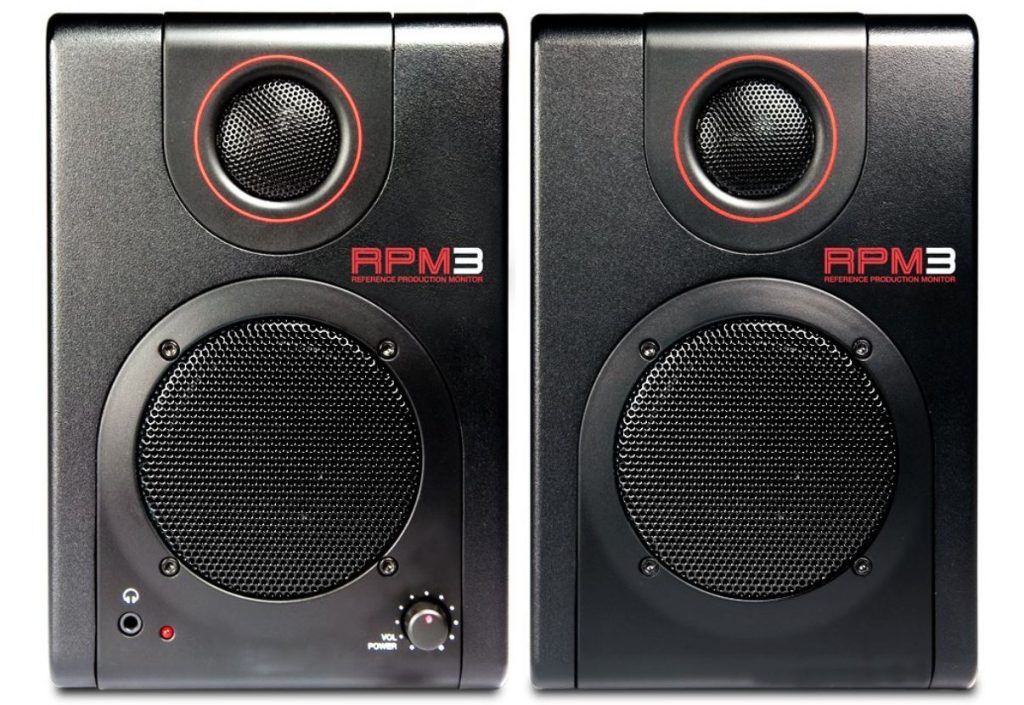 Akai is not necessarily known for their studio monitors, but also for other music-related equipment. However, they have proven more than capable of nailing the essence of budget studio monitors. The best example of this is their professional RPM3 compact monitors. Akai has put together a package that not only works but also works reasonably well. Each loudspeaker has a 3 "low-frequency driver combined with a 1" tweeter. Both transducers are behind a metal grid, which both protects them and gives them a more interesting appearance. In terms of frequency response, you look at 80Hz to 20kHz, which is more than sufficient in this specific segment of the market. With control buttons on the front, RPM3 is one of the best studio monitor speakers under 100 dollars.
back to menu ↑
Edifier R1010BT
Budget monitor speakers are a category where we see a number of useful designs. Edifier R1010BT is such a set of speakers. They do not only look like something that must be at least twice as expensive, but they also bring some interesting features. Despite their stylish and somewhat retro appearance, Edifier R1010BT are the right studio monitors. Best of all is that they are super compact. Each loudspeaker comes with a 3/4 "tweeter paired with a 4″low-frequency driver. Combined you look at about 24 Watt RMS, making them more powerful than many of their competitors. What really makes the R1010BT one of the best studio monitor speakers under 100 dollars is the fact that it comes with built-in Bluetooth support. That pushes the convenience factor quite high.
back to menu ↑
M-Audio AV32
It is no secret that the AV32 from M-Audio has been the choice for many novice producers around the world. Although these speakers were released some time ago, that fact has not changed. There is also a reasonably good reason for this. M-Audio has found a great combination of price and performance with AV32. They are the type of package that just works. Each speaker has a 1 "ferrofluid-cooled silk dome tweeter and a 3" woofer. In terms of power, you look at 10 watts per channel, which makes this a 20-watt package. M-Audio has further refined the deal with their clever cabinet design and the advanced waveguide design for the tweeter. When it comes to compact desktop monitors, this is certainly one of the best studio monitor speakers under $100.
back to menu ↑
Samson MediaOne BT3
Compact desktop monitors are nothing new, but a few think that being both versatile and affordable is not easy. Samson MediaOne BT3 solves this problem very well. You look at some pretty stylish speakers that not only work well but also look pretty good. The design itself is a relief in the sea of black plastic. When it comes to hardware and performance, we have a 1 "silk dome tweeter in combination with a 3" low-frequency woofer. Each loudspeaker is capable of pushing 15 watts RMS, making it one of the most powerful monitors you can get in this specific price range. On top of that, there is also support for Bluetooth, front-facing controls and a great I/O cluster. Such things make it one of the best studio monitor speakers under 100 dollars.
back to menu ↑
Alesis M1 Active 320 USB
It is difficult to find a set of speakers that can be used as monitors, but also as general purpose loudspeakers. Alesis M1 Active 320 USB is one of the few models that fit into this description. These are compact in nature, have a rather subtle design and hide a few interesting features. Needless to say that Alesis M1 is an excellent choice for desktop use. What is particularly interesting to Alesis M1 Active 320 USB is that they also have a USB port in addition to the regular I/O. In addition, you get a bass boost function that effectively gives these speakers a little depth in the low range. By simply pressing that bass boost button, you can go from pure monitors to general purpose speakers. Overall, these are one of the best studio monitor speakers under $100.
Top 10 Best Studio Headphones Under $500
back to menu ↑
Mackie CR3
If there are a few affordable speakers that everyone knows, it is the Mackie CR3. In general, CR3 and the rest of the CR series have proven to be a perfect solution for those who are engaged in music production. They feature well-balanced components in combination with a stylish design and a reasonably reasonable price. In terms of size, these fall under the compact category. Each loudspeaker packs a 1 "tweeter in combination with a 3″low-frequency driver. Supported frequency range runs from 80Hz to 20kHz, making Mackie CR3 one of the most realistic budget monitors. The sound quality is more than adequate for such a build, while there is also a surprising amount of transparency. Most importantly, Mackie CR3 pushes 50 watts of power across two channels. Overall, these are one of the best studio monitor speakers under 100 dollars.
back to menu ↑
Alesis Elevate 3
Alesis is one of the few brands that dominate the budget of the market for studio monitors. Their Elevate 3 monitors are fairly straightforward, and that is what their users value the most. We look at all black cabins with simple baffles and general subtle aesthetics. The whole idea behind Alesis Elevate 3 is to give you the performance you need. They did not really focus on something that did not contribute to that effort. In terms of hardware, we have a 1 "dome tweeter in combination with a 3" frequency driver. Combined, both cabs push out approximately 60 watts of free transparent sound. Add a reasonably accurate frequency range that goes from 80Hz to 20kHz and you have a great setup. Overall, these are one of the best studio monitor speakers under $100.
Things To Know About Best Studio Monitor Speakers Under $100
The main difference between monitor speakers and ordinary speakers is in the way they represent tone. Your standard computer speakers are bass heavy, with a tone profile designed to give you the most flavor of your music. That is not the case with monitors. Their main goal is to be as flat as possible and to show the raw sound of your mix. Achieving that kind of transparency with $100 monitor loudspeakers is difficult. A set that is somewhere in the range of $500 will deliver a much better performance.
The problem with affordable monitoring starts with the size of the transducers. In most cases, there will be a driver and a tweeter in each cabinet. Some brands like to call these drivers as woofers, but that is wishful thinking at best. You look at 3 "inch units that have their limits, at best it will be a decent driver with a full range that is low enough and has a linear frequency response across the entire range. In the worst case scenario, go to dead low-end and a reasonable middle department.
A more expensive set of monitors, in a price range of $1000 or similar, gives you perfect clarity and response from the lowest to the highest parts of the frequency range. As you have probably already calculated, you get what you pay for. This is undoubtedly an inexpensive option, but it provides that the most important factor for every cheap item – it is actually convenient and not just something to play with, and it delivers the best price. Most budget monitors will come with a 3 "or 4" inch low-frequency drivers. Expect more than that, you will leave disappointed.
For the most part, that extra inch of transducer real estate will not necessarily make a difference in performance. The truth is that most of these transducers fall within the middle range of the driver area or even full range. Both 3 "or 4" drivers will work, especially in smaller studios. In fact, smaller drivers are much more preferable when you work in confined spaces. Getting the optimal performance from your speakers will depend much more on how you position them.
Final Words
Best Studio Monitor Speakers Under $100 in this guide are by far the best you can get for $100 or less. We've looked for performance rather than something else, trying to discover decent speakers that could be viable in a home studio environment. Again, it is necessary to understand the limitations of monitors in this price category. You will not get sharp clarity or transparency, but the performance these speakers have to offer is enough to get started. It is always recommended to get the best equipment you can buy, even if a set of $100 is all you can afford.
Top 10 Best Studio Monitor Speakers In The World
Originally posted 2019-01-19 19:53:44.
The Techgadgetguides is a participant in the Amazon Services LLC Associates Program, an affiliate advertising program designed to provide a means for sites to earn advertising fees by advertising and linking to Amazon.com Inc.