Are you looking for the Best Cheap Noise Cancelling Headphones, but can not you find it with good value? In this buying guide, you will discover some of the best choices that this type of headset has to offer. We will evaluate the quality of the noise cancellation function to give you a clear idea of what you can expect. In addition, we will share all the functions to take into account when buying cheap noise cancelling headphones. Headphone technology has improved considerably in the last decade and a number of functions need to be taken into account.
Check out the shopping considerations section to find out what to think about when evaluating the headset. We hope that by the time you read this buying guide, you will have a good idea of the inexpensive noise-canceling headset that best suits your needs. The low price does not mean that you have to sacrifice the quality of the audio, and you will see that it is in the best cheap noise cancelling headphones that we have found. This guide saves you time and allows you to optimize your budget.
Best Cheap Noise Cancelling Headphones Comparison Table
Best Cheap Noise Cancelling Headphones
Headphone Name
Battery Life
Connectivity
CB3 HUSH
10-12 hours
Wireless
Mpow H5
18 hours
Wireless
COWIN E7
30 hours
Wireless
Audio Technica AUD ATH-ANC7B
Not Wireless
Wired
JVC HANC250
Not Wireless
Wired
Srhythm Active Headphones
16 hours
Wireless
TaoTronics Active Headphones
25 hours
Wireless
BÖHM B66
18 hours
Wireless
Monoprice SonicSolace
16 hours
Wireless
Golzer BANC-50
12 hours
Wireless
Things To Know Before Buying Cheap Noise Cancelling Headphones
Wireless Connectivity
You will notice that there are many wireless headphones in this buying guide. Thanks to improvements in battery technology and buyer demand, the number of Bluetooth headsets delivered in recent years has increased dramatically. However, not all headsets are the same when it comes to wireless connectivity. Here are some things to consider when evaluating this feature:
Bluetooth version: View the Bluetooth version installed in the headset. The minimum you would pay is Bluetooth 4.0 because older versions do not offer the same level of sound quality. Bluetooth 5.0 offers even more benefits, but there are currently a very limited number of options on the market.
Battery Life: A longer battery means that after each use you do not have to worry about charging the headphones. Some batteries offer so much play time that you could charge several times a month.
Fast charging feature: The quality of the fast charging function determines the battery life you can achieve for a very short charging time. In some cases, you can get several hours of battery for only 10 minutes of charging time.
Durability
Durable earphones are ideal because you can use them well before moving on to another pair. Sometimes, however, at the end of the budget, the quality of the materials used is not the best and therefore the sustainability. Pay attention to the materials used. If you are looking for cheap plastics, look elsewhere. However, missing headphones in the sustainability department may be worth the purchase if they have a solid warranty. When they end up destroying you, simply contact the brand to request a repair or replacement unit.
Audio quality
A wide range of functions has now been implemented – end-of-scale event. In the end, though, it's about the quality of the audio. It can be difficult to determine the audio quality you expect from a product description, but there are a few things to watch out for before buying the best cheap noise canceling headphones:
Frequency range: The human ear can hear sounds in the frequency range of 20 to 20 kHz, this is the range that headphones should at a minimum. However, the lower frequency range needs to be expanded if you want excellent bass. The budget category does not have the widest range of frequencies, but this function deserves to be considered.
Audio Drivers: Audio drivers are the units that offer the music experience. Note the size, which is measured in mm and at least 40 mm is ideal.
Noise reduction: you will notice that all the headphones in this list have a different implementation of this function. If you want the disruption to be minimal, look for a highly valued implementation of the ANC function.
Brand
The overall quality of the brand must be taken into account because it plays a role in what you can expect from the headphone. One can trust the most popular brands such as Bose, Sony, and Sennheiser, but do not ignore the less popular brands. At the end of the scale, a number of unpopular brands have an excellent product and some of them are on this list, such as Golzer BANC-50 and Monoprice SonicSolace. Take the time to do your own due diligence for a brand before you buy.
Comfort
One quality you should never sacrifice when buying the best cheap noise cancelling headphones is the quality of comfort. This varies enormously from one headset to another and depends on the format. For example, the over-ear headphones have a larger design that places the entire ear in the headphones. Most ANC headphones have a design above the ear because, to block ambient noise, the shell must be completely protected from the environment.
Ideally, the ear cups should be made of breathable materials that allow ventilation of heat and moisture. Otherwise, you start – after a few hours of use, you feel uncomfortable. In addition, the execution of the banner must be taken into account; a high degree of the adjustment means you can get the right fit for you.
Finally, look at the total weight and most noise cancelling headphones. This determines how heavy they will be to wear when they are outdoors. The ANC function naturally adds weight and volume to the ear cups, which means that the earphones in this list cannot be compared in volume terms with smaller earpiece types.
Here are the Best Cheap Noise Cancelling Headphones, arranged according to the audio quality, built design, and price ratio:
CB3 HUSH
The CB3 HUSH headset has an active noise reduction, one of the best on the budget side of the scale. The company behind the offer is not the most popular, but the implementation of the various functions is impressive here. The design is practical and has all the functions you need, without doing anything special. Noise reduction features greatly reduce the sound of low and mid frequencies, but high frequencies are not affected. That's why the function is not as extensive as in high-priced headphones, but you'll find they do a good job in the noisiest environments. The headset comes with a microphone that allows you to conveniently call in hands-free mode.
Just use Bluetooth to connect to your smartphone and receive notification when incoming calls arrive. But if wireless connectivity does not suit you, use the supplied AUX cable. The headset comes with 40mm audio drivers that produce clear, crisp sound. You will also like the performance of the bass guitar because there is boosting, but it is not so strong that you are overwhelmed. The total balance over the frequency range of 20Hz-20Khz is excellent. The headset has about 10 to 12 hours of playback with ANC and the charging time is 2.5 hours. The battery life would have been excellent 10 years ago, but with the level of fierce competition, it is at best average.
Pros:
Good noise cancelation
Balanced audio experience
Decent value for money
Cons:
Bulky
Materials could be improved
back to menu ↑
Mpow H5
The Mpow H5 is a balanced headset offering a good level of overall performance for the price. They are ideal for the buyer who is looking for a decent audio level without a big dent in his wallet. It offers a range of features that were often limited to high-quality headsets a few years ago. Active noise reduction does not eliminate all background noise but can reduce it considerably. You must activate the ANC function before turning on the music. The ANC function ensures a long battery life, but you can get 18 hours of playing time.
Bluetooth 4.1 is used to provide a connection that minimizes audio distortion. You can also use them up to 3 meters away from the audio broadcast device. In addition, a cable is provided with which you can listen when the battery is empty. They have a lightweight design, which means you can work for hours without the need for a break. Plus, the ear pads are very durable, which means you can expect many years of use without worrying about damage. An 18-month warranty period covers several types of damage and the 45-day money-back guarantee gives you the option to get a refund if you do not like them.
Pros:
Good noise cancelation
Durable build
18-hour battery life
Cons:
Bulky
ANC battery drain is strong
back to menu ↑
COWIN E7
The COWIN E7 is one of the best quality/price options on this list of the best cheap noise cancelling headphones because of the number of features you receive for around $ 60. We rated the COWIN E7 as the best budget choice in the "Headphones Under $100" guide and have also fully recommended it here. These headphones indicate the high level of performance available in the budget category if you are ready to search for them. With the ANC feature, you can suppress unwanted ambient noise, whether you're on a busy street or in the office. It helps you enjoy music, movies or a gaming experience. In addition, the total battery life is 30 hours, which means that the battery has enough power for the ANC function to work. 'off.
The long battery life is ideal for people who like to travel and need a personal audio solution that will not let them down. The headset has a number of controls that allow you to control the volume, accept calls, activate and deactivate the ANC function, and adjust the sound. This is one of the most thorough checks at the end of the spectrum. The large 40mm speakers offer a balanced sound level that will surprise you if you take into account the asking price. The performance is in no way comparable to that of audiophile headphones, but the majority of buyers may not see the difference.
Pros:
Good noise cancelation
Long 30 hour battery life
Well-implemented button controls
Cons:
Bulky
Materials could be improved
back to menu ↑
Audio Technica AUD ATH-ANC7B
The Audio Technica AUD ATH-ANC7B offers one of the best performances on the market for less than $ 100. If you want good noise reduction, a reputable brand, quality sound and attention to detail, then you love it. Read on to see if they have the features to justify a purchase for you. The ANC characteristics of these headphones can certainly block 90% of the ambient noise, which is better than most others can do on this list. The high level of noise reduction means that you can listen to your music in public. The overall design is lightweight and foldable, making them convenient to carry with you when traveling.
However, they are wired, so it is tedious to walk with them. Large ear cups offer many hours of comfort before heat and moisture buildup becomes a problem. In addition, the headband is fully adjustable to provide a secure and stable fit. These Technica Audio headphones come with 40mm audio drivers that produce a balance in the frequency range of 10 to 25,000 Hz. Expect great bass, precise midrange, and stable reflections. The sound is unique to all genres, which means they are made for real music fans. One moment, you can enjoy a soothing jazz piece and the next moment, you tip your head against rap.
Pros:
Wide frequency range
Good quality bass
Good ANC implementation
Comfortable fit
Cons:
back to menu ↑
JVC HANC250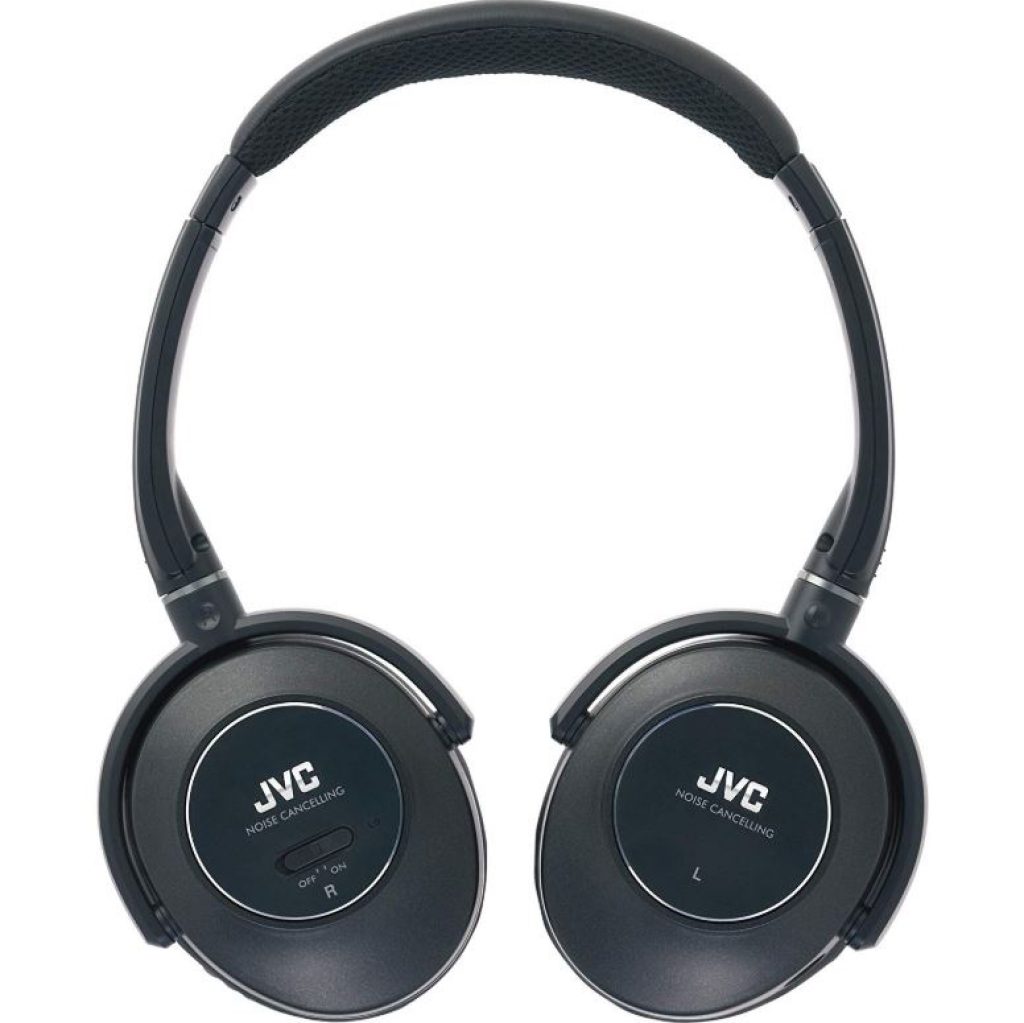 JVC is a renowned brand in the electronics industry, but they are not famous for their headphones. Anyway, the quality of the JVC HANC250 is a good choice that is just under $100. You will appreciate the combination of the different factors that allow a good audio experience. JVC HANC250 headphone noise reduction delivers 85% noise reduction – more than 18dB at 150Hz. Not the best implementation of noise suppression, but work is done in the noisiest environments that you met. The case of each headset provides an advanced level of noise reduction that helps prevent ambient noise when the ANC feature is turned off.
Top 10 Best Noise Cancelling Earbuds
The 40mm audio drivers deliver high-quality sound and the maximum level in decibels is 102. The drivers offer a good level of accuracy over a wide frequency range from 8 to 24,000 Hz. The low frequency is particularly wide to allow a significant depth of bass. You'll enjoy playing bass in genres such as hip-hop and rock. These are wired headsets and the noise reduction feature requires an AAA battery providing 50 hours of playback time. You need a stock of AAA batteries to own these headphones, or you can invest in rechargeable AAA batteries to save money.
Pros:
Wide frequency range
Good quality bass
Decent ANC
Cons:
Build quality could be improved
Not wireless
back to menu ↑
Srhythm Active Headphones
The ANC earphones from Srhythm offer many features for a price of around $80. They do not have many advanced features, but the quality is sufficient to fully justify the price. In addition, the quality of construction is rather good for a product made by an unknown brand. The noise reduction function can significantly reduce and, in most cases, the ambient noise as a whole. When you press the switch, the overall audio quality changes drastically, but the battery life is faster. The 4.1 Bluetooth connection offers 16 hours of battery life. It is above average and allows you to travel all day without recharging your batteries.
An audio cord is included and can be used for a wired connection when the battery is dead. The quality of the cut is another strong point here thanks to its ergonomic design. The combination of soft ear cups, plush headband, and swivel design means you'll be comfortable with these headphones on a daily basis. Headphones are covered by a 12-month warranty covering many types of damage. In addition, a 30-day money back guarantee allows you to get a refund without asking any questions if you do not like earphones. This should give you peace of mind that you can buy with confidence.
Pros:
Good fit
92% noise cancelation
Good value for money
Cons:
Durability could be better
back to menu ↑
TaoTronics Active Headphones
These headphones are produced by one of the best audio brands in the world and the overall quality is hard to ignore. The active TaoTronics noise cancelling headphones are very popular and affordable. Display the different functions to see if they meet your needs. The ANC feature with these TaoTronics headphones is not the best on this list, but it largely eliminates ambient noise in a noisy environment. The function eliminates unwanted frequencies up to a certain decibel level without very loud sounds.
A major advantage with these headphones is the comfort of the form. The ergonomic headband is fully adjustable and the soft protein earpieces are comfortable to wear for hours at a time. The fit at the ear ensures good breathability through the intelligent use of materials. The battery life is 25 hours and a cable allows you to use a wired music experience when the battery is empty. Bluetooth 4.2 is proposed here, which is now one of the best versions. It provides reliable, undistorted audio over a long period of time.
Pros:
Good noise cancelation
Long 25 hour battery life
Built-in CVC 6.0 noise-cancelling microphone
Cons:
The highs can sound a little unbalanced
Bass might be overwhelming for some
back to menu ↑
BÖHM B66
The BÖHM B66 headphones offer a wide range of exciting features at a competitive price of around USD 80. If you like over-ear headphones with an impressive bass, you'll love them. They are perfect for the budget buyer who is not interested in sacrificing the quality of the audio experience. With the ANC function, you can block most sounds, but it's not 100%. You will notice that the ANC function works properly until very decibel sounds are detected, such as police sirens or construction works. The rechargeable battery offers up to 18 hours of continuous playback using the included 290 mAh battery. However, this battery life is based on use at a volume level of 50%.
If you want to listen to music near the maximum settings, the battery life will be significantly reduced. The lightweight aluminum case contains zinc, which increases the durability of the earphones. This is why the headband is rigid, but at the same time offers many possibilities of adjustment and comfort. The earbuds on the ear provide a lot of comforts, but they are rather bulky, which means you'll have to get used to it when you go out. The 40mm audio drivers offer an impressive frequency range of 20 to 20 KHz. You get precise midrange and treble with bass that makes the bass effective. They sound good for a wide variety of musical genres and versatility is one of the main strengths of these headphones. They are compatible with all Bluetooth smartphones, including all Apple devices.
Pros:
ANC feature works well
Solid 40mm audio drivers
Durable headband
Cons:
back to menu ↑
Monoprice SonicSolace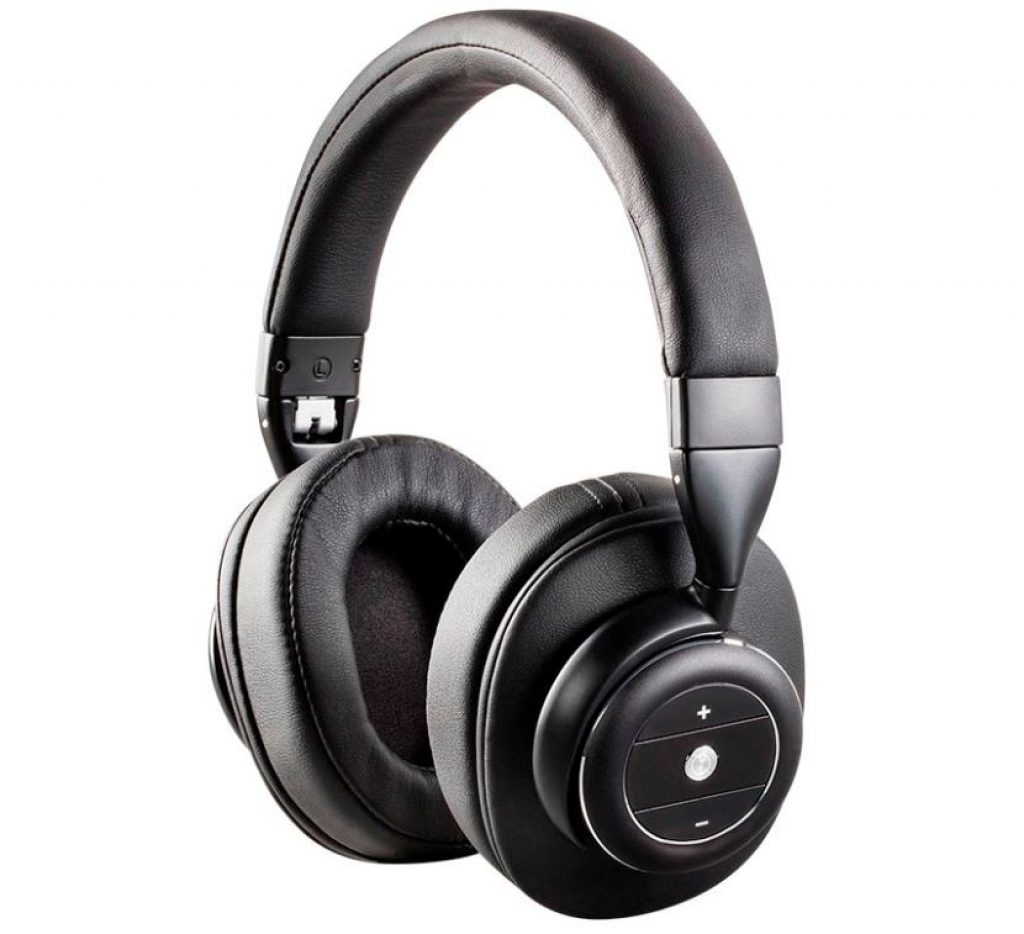 If you're ready to take risks on an unknown brand, you'll appreciate the level of quality available in Monoprice SonicSolace earphones. They have a number of features that headphone buyers are looking for, even at the end of the scale. Explore the different functions in more depth to see if they have sufficient value to justify the purchase. The ANC feature reduces battery life in half, from 16 hours to 8 hours, but it is worth it because its implementation is excellent. It is very effective at blocking ambient noise so you can enjoy the clarity of your personal audio experience.
Bluetooth 4.0 is available here, which is one of the best versions that provide a decent connection range and solid audio performance. You can connect to your smartphone to listen to music, but there is no microphone for making hands-free calls. The frequency range is between 20 and 20 kHz, which is more than enough for good sound quality. The sensitivity of 105 decibels means that a powerful sound is emitted by the 40 mm audio drivers. This combination of functions gives you a good price/quality ratio.
Pros:
ANC feature works well
Solid 40mm audio drivers
Classy look
Cons:
Battery life is only 8 hours with ANC
Earcup ventilation is lacking
back to menu ↑
Golzer BANC-50
Golzer is not a popular brand, but the Golzer BANC-50 offers enough value to pay attention. The combination of useful features means that you will appreciate its functionality and its comfortable fit for everyday use. The visual design is quite simple and the ear cups are distinguished by their extensive design. Read on to discover some of the great features that buyers need to know before buying. Active noise reduction operates at 85% speed, allowing you to hear distracted audio in the noisiest environments. However, it can be difficult to keep the loudest sounds, like a jackhammer or a police siren.
With the built-in microphone, you can have a hands-free conversation with your friends and family. It's convenient and the control buttons are well placed on the ear cups. You can use the buttons to answer calls, skip numbers, and change the volume level. The battery life provides 12 hours of playback time when the ANC feature is enabled, which is about the market average. The rechargeable battery lasts 2-3 hours to recharge and there is no fast charge function to give you a boost to battery life. In addition, a 3.5mm cable is added to provide a wired connection when the battery is empty.
Pros:
Decent ANC feature
Good value for money
Microphone with decent controls
Cons:
Final Words
The above-mentioned headphones are among the most popular Bluetooth headphones and the Best Cheap Noise Cancelling Headphones you can buy now. Check out the Best Bluetooth Headphones if you are not worried about active noise cancellation. If you know how much money you are willing to spend and choose one of these options, we are sure you will not be disappointed. We would like to hear about your best hearing protectors or just the ones you use in noisy environments. So leave your comments below.
Originally posted 2018-11-16 16:59:34.
The Techgadgetguides is a participant in the Amazon Services LLC Associates Program, an affiliate advertising program designed to provide a means for sites to earn advertising fees by advertising and linking to Amazon.com Inc.